Where the Open Road Leads Me
I haven't quite gotten the hang of writing from the open road. You would think it would be so easy: just walk into your hotel room, open your laptop, and begin writing, right? Not so much. At least, not for me. I've struggled to find a balance between driving, interacting with people I meet up with, or on, my trip, and writing regularly. Hopefully, I'll get into a regular rhythm soon. Until then, here are a few more nuggets from my journey.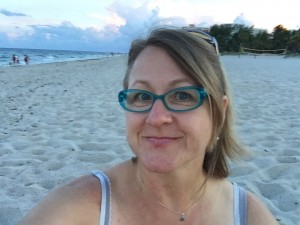 In early September, I drove from West Virginia to Myrtle Beach, South Carolina, my only companion an audiobook. The Lineup, edited by Otto Penzler, was the perfect read for a crime writer. Listening to accounts about other crime writers, like Alexander McCall Smith and Michael Connelly, I found tons of inspiration for my own work. Plus, it helped pass the hours spent behind the wheel.
After Myrtle Beach, the open road took me even further south, so I stopped in Savannah, Georgia, for a night. After wandering around in the intense heat and humidity the next day, all day, my energy was sapped and I didn't make it to Pompano Beach, Florida, like I planned. Instead, I stopped for the night at a Wyndham hotel in St. Augustine, Florida. (Where a roach marched across my nightstand table as I was climbing into bed, while the lights were still on. Talk about setting the scene for a poor night's sleep.)
The next day, after calling Israel (a fun first!) to conduct an interview for a feature article I'd been assigned, I complained to management, was given a $20 discount, and continued driving south on I-95. Munching on boiled peanuts and Cajun-coated pecans along the way, I went straight to the beach when I arrived in Pompano. It was 360-degrees of brilliant sunshine.
As the waves rolled in and back out again, I thought about some of the folks I'd met on my journey. Like Atlanta, who has worked at an ice cream parlor since she was 13. She's 21 now, but still loves her job. Already a hard-working employee, one day she will be a successful business owner. Wait and see.


I thought, too, about those people I'd only seen in passing, like the fellow who was taking his children to a sports game over the weekend. We chatted only briefly at a coffee shop, after I commented on his shirt. He let me take a photo, which is shown here. Its message is something every parent can relate to.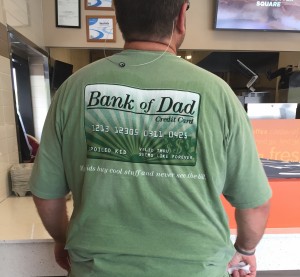 Then there was the Florida Highway Patrol officer who blocked traffic with his police cruiser, crossing three of five lanes to toss two huge bags of what looked like clothes or bedding, obviously fallen from a vehicle, over the guardrail. He did that to help protect us from harm. From what could have been a very serious, multiple-vehicle pileup.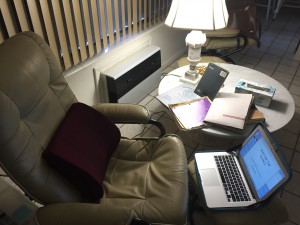 He and other emergency workers – police, fire, and rescue – provide a crucial service. In one way or another, they keep the peace. Protect us from anarchy. Even from death. In these turbulent times, we need to remember that the majority of police officers are decent humans, just like us. Who hate the actions of their incompetent and corrupt colleagues – who give the good guys a black eye – even more than we do.
I was reminded of this when I returned to Pompano and the apartment where, last March, I wrote about one such good, even great, police officer. That book, while a love story, also provides a powerful example of the fine work done by such men and women in blue. If all cops were like him, there would be no national news coverage of police shootings like the most recent ones in Tulsa, Oklahoma, and Charlotte, North Carolina. In fact, if every police agency in America would model their teams after him, that coverage would drop dramatically.
If you'd like to read more about my trip of a lifetime, including my foray into the Florida Keys, where I visited Hemingway House and met many other amazing, gracious people, please tune in next time.
* * *
My seventh book, Shatter the Silence, a love story and the long-awaited sequel to my first memoir was released May 7. That's on the heels of Tales of the Vintage Berry Wine Gang, a collection of my newspaper columns from 1988-91, which came out in April. Prior to those two books, Guilt by Matrimony was released last November. It's about the murder of Aspen socialite Nancy Pfister.
My memoir, Sister of Silence, is about surviving domestic violence and how journalism helped free me; Cheatin' Ain't Easy, now in ebook format, is about the life of Preston County native, Eloise Morgan Milne; The Savage Murder of Skylar Neese (a New York Times bestseller) and Pretty Little Killers , released July 8, 2014, and featured in the August 18, 2014, issue of People Magazine.
You can find these books either online or in print at a bookstore near you, at Amazon, on iTunes and Barnes and Noble.
For an in-depth look at the damaging effects of the silence that surrounds abuse, please watch my live TEDx talk, given April 13, 2013, at Connecticut College.
Have a great day and remember, it's whatever you want to make it!
~Daleen
Editor's Note: Ms. Berry is a New York Times best-selling author and a recipient of the Pearl Buck Award in Writing for Social Change. She has won several other awards, for investigative journalism and her weekly newspaper columns, and her memoir, Sister of Silence, placed first in the West Virginia Writers' Competition. Ms. Berry speaks about overcoming abuse through awareness, empowerment and goal attainment at conferences around the country. To read an excerpt of her memoir, please go to the Sister of Silence site. Check out the five-star review from ForeWord Reviews. Or find out why Kirkus Reviews called Ms. Berry "an engaging writer, her style fluid and easy to read, with welcome touches of humor and sustained tension throughout."