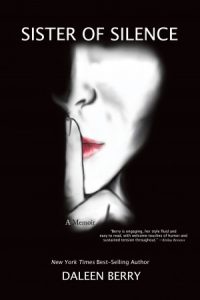 This memoir follows the author's harrowing journey from teen mom to award-winning journalist and New York Times best-selling author. At thirteen, Daleen Berry was raped. By sixteen, she was barefoot and pregnant. And at twenty-one she was a mother of four children, tumbling headlong into a dark depression that nearly claimed all their lives.
A riveting true story, this memoir peers into the most horrible moments of Ms. Berry's life—and demonstrates the astonishing resilience of the human spirit.
Sister of Silence has been called a "brave book," and Ms. Berry a "magnificent storyteller." It was banned from Livermore High School in California in 2012, and was downloaded 61,830 times from May to August 2012, climbing to #2 on Kindle (just below Fifty Shades of Grey) and turned into a TED talk in April 2013. In 2015, Sister of Silence was selected by West Virginia University faculty as a "great book," earning it a place on West Virginia University's Appalachian Literature list.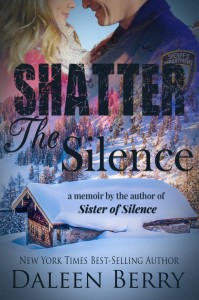 Shatter the Silence is the long-awaited sequel by New York Times Best-Selling Author Daleen Berry. Like Sister of Silence, Ms. Berry's 2011 breakout memoir about surviving abuse, Shatter the Silence takes place in Preston County, West Virginia.
This memoir recounts the true crimes Ms. Berry covered while working as a news reporter, interweaving them with details of her divorce, her ex-husband's ongoing harassment following their divorce, and finally, her friendship with the police detective who helped save her life.
Readers will weep as they learn about the collateral damage Ms. Berry and her four children sustained, following ten years trapped in a violent marriage. They will cheer when they see her refusal to live the rest of her life as a victim, and will be overjoyed when Ms. Berry realizes that even a single mother of four can love again. Finally, Ms. Berry's loyal fans will be moved by the tender moments she shares, as they join this award-winning author on her journey of hope and healing.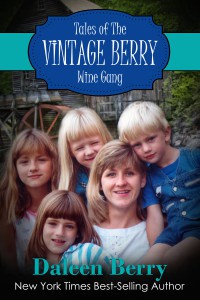 Devoted fans of West Virginia author Daleen Berry's weekly newspaper column, Vintage Berry Wine, from her days at the Preston County Journal, will be happy to hear those old yellowed clippings have been compiled into a book. Plus, as a BONUS, new, never-before-read columns are included! Using humor to draw from the antics of her four rambunctious children, Tales of the Vintage Berry Wine Gang will make you wonder about that crazy, loveable, dysfunctional world we call "family."
Readers have long awaited this book by Ms. Berry, who, in the intervening twenty-five years since writing her first newspaper column at the Preston County News, went from an award-winning columnist and investigative reporter to a New York Times best-selling author of true-crime.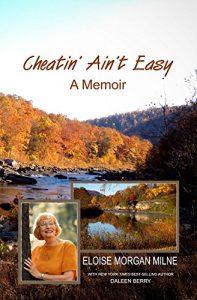 Cheatin' Ain't Easy is about the petite dynamo and the cousin of American hero Daniel Boone, who would have stopped Jerry Sandusky in his tracks, had she lived in State College, Pennsylvania, instead of Kingwood, West Virginia. Eloise Morgan Milne's work on behalf of abused children set a precedent that could be used as a roadmap at any school. Eloise worked as director of social services and attendance at the Preston County Board of Education, earning the title "champion of children" by her admiring colleagues. Circuit Judge Robert Halbritter had another name for Eloise: "my best bird dog." That's because she sniffed out child sex abuse and then went after the abusers with every inch of her five-foot-tall frame. Eloise spent her life as a crusader for children's rights.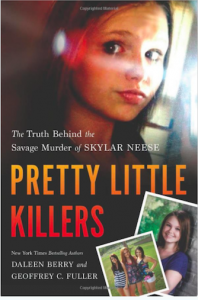 In Pretty Little Killers, journalist Daleen Berry and investigator Geoffrey Fuller expand upon their New York Times bestselling ebook The Savage Murder of Skylar Neese to give you even more information behind one of the most horrific and shocking murders of our time. Including over 100 pages of new material, Pretty Little Killers shares the latest theories and answers the questions that have left many people baffled.
After killer Shelia Eddy pled guilty to first degree murder and was sentenced to life in prison and Rachel Shoaf was sentenced to thirty years for second-degree murder, family, friends, investigators, and other key sources reveal the facts you would have learned if the case had gone to trial.
Including specific details drawn from Rachel's confession, Pretty Little Killers looks at the crime through the eyes of the victim and killers, providing intimate testimony from the pages of Rachel's personal journal, Skylar's diary and school papers, and court records.
Berry and Fuller examine all this, including previously unreported details about Rachel and Shelia's rumored lesbian relationship and explain why more than one investigator believes Skylar's murder was a thrill kill.
Most important, Pretty Little Killers provides a satisfying answer to Skylar's final question: "Why?"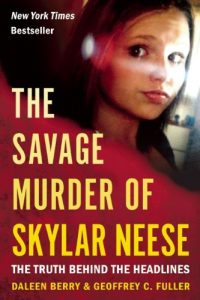 Journalist Daleen Berry and investigator Geoffrey Fuller give you the little-known details behind one of the most horrific and shocking murders of our time.
One hot July night, three popular, pretty girls snuck out for a midnight joyride. Only two came back.
Stabbed so savagely she was almost decapitated, Skylar Neese was left bloody on the side of the road, buried beneath rocks and branches.
For six months, people wondered and waited, hoping Skylar would return. Instead, the community was stunned when Rachel Shoaf confessed to Skylar's murder. The budding actress and singer accused the third member of the inseparable trio, Shelia Eddy, of being the ringleader. People were even more shocked to learn the murder was not a crime of sudden rage—but premeditated.
Now, friends, family, and the public are left with so many unanswered questions: Why did investigators believe her murder was connected to a rash of bank robberies and an interstate heroin ring? What part did drugs and social media play in Skylar's killing and its aftermath? How did other high school students and even her own mother help discover who killed Skylar? And, if Rachel's confession is true, what would lead two teenage girls to kill their best friend in one of the most horrific crimes in recent years?
With firsthand interviews with those close to the case and written in cooperation with the victim's parents, Dave and Mary Neese, The Savage Murder of Skylar Neese is the most comprehensive, detailed and in-depth source on the Skylar Neese murder.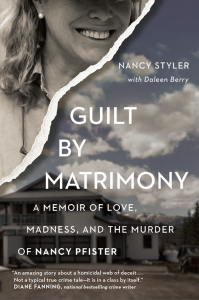 In 2015, Guilt by Matrimony was selected by West Virginia University faculty as a "great book," earning it a place on West Virginia University's Appalachian Literature list.
In February 2014, Aspen socialite Nancy Pfister was murdered in her own home—brutally bludgeoned, wrapped in a sheet, and stuffed inside a locked closet. The question was: Who did it?
Fewer than twelve hours after her body was found and without any evidence, police decided a married couple from Denver had killed her. Within a few days, they arrested and charged Nancy Styler, a friend of Pfister's who'd had a falling out with her after a business deal went sour, and Dr. Trey Styler, Nancy's disabled husband, who recently lost the family home, his medical practice, and any hope of a peaceful retirement for himself and his wife. Eleven days later, police also arrested and charged Kathy Carpenter, Pfister's underpaid and overworked personal assistant and closest friend.
Months later, Trey Styler, who was slowly losing his grip on reality as he battled with mental illness, confessed to the crime. Rampant speculation spread about whether he was involved at all—or if his confession was that of a man on his deathbed—because a medical condition appeared to have left him barely able to walk, much less carry out such a heinous crime.
In Guilt by Matrimony, Styler's widow, Nancy, reveals the answers to the biggest mysteries of this case and recounts the trauma of being falsely accused and imprisoned for a first-degree murder she had no knowledge of. And, in the only interview before his death, Trey gives his account of that fateful day.
New York Times bestselling author Daleen Berry covers this compelling story from the inside, following the Stylers from their fairy-tale life in Denver to the morning of their simultaneous arrest to Nancy's release from jail and her attempts to rebuild her shattered life. Filled with details from exclusive interviews, a close look at the botched small-town police work, and first-person accounts of what really happened, Guilt by Matrimony is the definitive look at a shocking murder that rocked Aspen.