COVID-19: To Avoid Another Thalidomide Disaster, We Must Research, Read, and Reason
This began as a long-winded Facebook rant. I wrote it in response to some dangerous comments I've seen about people, including President Trump, promoting the use of hydroxychloroquine for COVID-19. I simply do not believe this is wise. And I believe listening to anyone who is not an expert in the field will get people killed. It already has.
Many of you will remember that I was once a guest on Dr. Phil. But there is a very good reason that I will never go on his show again, and why I've only watched a few episodes of Oprah, Dr. Phil, Dr. Oz, or any other "expert" who wants to come into my home and sell me something.
I am a researcher. I do not buy into propaganda—whether it's found on a billboard, in a magazine, on a TV show, or from inside the White House.
Since the use of hydroxychoroquine, which has been successfully used for malaria, lupus, and arthritis, is a growing concern, and due to the frightening amount of misinformation about its effectiveness in treating COVID-19, I offer this fact-based, well-researched article. It cites numerous studies, medical schools, and the like—from around the world. Within this piece of real journalism, I personally believe these points are worth listening to.
Before you read them, though, please consider "one of the darkest episodes in pharmaceutical research history. The drug was marketed as a mild sleeping pill safe even for pregnant women. However, it caused thousands of babies worldwide to be born with malformed limbs. The damage was revealed in 1962."
That drug was thalidomide. It was a disaster of epic proportions.
Do we really want to risk a repeat of that?
My first point about hydroxychloroquine, below, references a pilot study which Dr. Mehmet Oz says shows "could get rid of the virus in six days in 100 percent of the patients he treated." Dr. Oz has irresponsibly touted this study on national TV as proof that hydroxychloroquine is a safe treatment for COVID-19.
1)
"The report was not a randomized clinical trial—one in which many people are followed to see how their health fares, not simply whether a virus is detectable. And Oz's "100 percent" interpretation involves conspicuous omissions. According to the study itself, three other patients who received hydroxychloroquine were too sick to be tested for the virus by day six (they were intubated in the ICU). Another had a bad reaction to the drug and stopped taking it. Another was not tested because, by day six, he had died."
The following points make sense and are prudent to consider.
2)
"The University of Michigan Medical School advises its doctors that "the current body of literature and local experience does not support the routine use of any specific treatment regimen, including hydroxychloroquine, for patients with confirmed COVID-19 infection."
3)
"A randomized trial of 30 patients with COVID-19 in Shanghai found no difference in detectable virus at day seven, with or without hydroxychloroquine. Another recent study suggested that the drug may help with COVID-19 symptoms, including coughing and fever, but it included only 62 people with mild cases of the disease, and excluded anyone with conditions that could be exacerbated by hydroxychloroquine."
4)
"In mid-March, Italian and Israeli researchers concluded that there were sufficient grounds to continue doing research with the drug, but that any use should be closely monitored. The scientists advised against widely unleashing yet another medical variable during the pandemic."
Be smart, folks. Do your research. Use current, scientific data—because not even 15-year-old National Institute of Health (NIH) studies are useful with COVID-19. And read what you research. Then toss emotion out the window and use reason to form your opinions. All of our lives depend on it.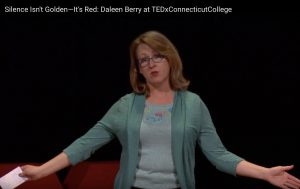 Dear Readers,
Thank you for your donations toward "Daleen v. Goliath." You helped me keep the lights on, to purchase paper and ink, which helped me submit many, many filings to the Monongalia County Circuit Court, and to the West Virginia Supreme Court of Appeals. As of Sunday, March 1, 2020, my GoFundMe permanently closed. If you want to read about what one person called "the biggest battle of your life," just scroll through the last two years' worth of my posts. It's all there. Well, most of it. What wasn't in there will come out in book form one day. This includes a book specifically addressing why you should know your (civil and/or criminal) rights before you walk into a courtroom. And what to do when the judge doesn't know—or doesn't care.
For an in-depth look at the damaging effects of the silence that surrounds abuse, please watch my live TEDx talk, given April 13, 2013, at Connecticut College.
Thank you for choosing to read what I write. With the many and varied choices out there, I'm honored that you dropped by to visit me.
Have a great day and remember, it's whatever you want to make it!
~Daleen