Morgantown Area Farmer's Market Hopes to Spread the Word: "We Accept EBT and WIC!"
I love farmer's markets. They remind me of the rich, dark earth I played in as a child. There, every spring, I would help my mother dig long, somewhat straight rows in the garden, drop in tiny seeds, cover them with soil, and then watch them shoot up through the ground, turning from a tiny tendril to a fully formed, sun-ripened tomato, ear of corn, green bean or other delicious vegetable.

We didn't have much money for food, so growing our own was vital. In today's housing economy, fewer people have enough land for a garden, making farmer's markets around the country a necessity. Especially for low-income folks, who, sadly, may not frequent them—because they don't know the produce is actually quite affordable. It's also far better for you than anything in a supermarket, since produce can travel
thousand of miles
to reach you, making it almost outdated by the time it arrives.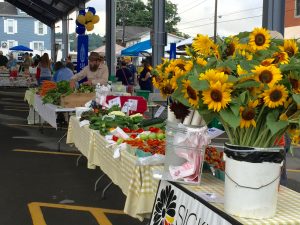 Not only that, but the
Morgantown Area Farmer's Market
—like others of its kind—accepts the same form of payment my mother and I both as single parents: WIC benefits and food stamps (currently known as EBT cards). Provided by
SNAP
, the federal Supplemental Nutrition Assistance Program, these benefits are available here in West Virginia and around the county.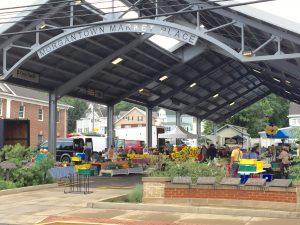 What you may not know, however, is that before long, every EBT dollar you spend at the Morgantown Area Farmer's Market has the potential to become two. In other words, shopping at your local farmer's market could double your dollars. All we need to do is spread the word, since few people who pay for their groceries with an EBT card (or who use WIC) know that the farmer's market gladly accepts these forms of payment.
Ashley Reece, the local SNAP coordinator, wants folks to receive $2 of fresh produce in return for $1 EBT dollar. All that's needed is to get more EBT consumers to shop at the Saturday morning and Wednesday afternoon (located in Westover) markets. Then, in turn, a grant can help turn Ashley's goal of providing quality food to local families into a reality.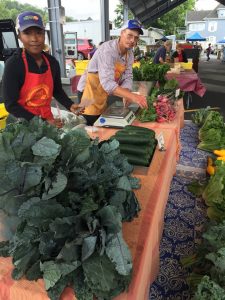 Farmer's markets like the one in Morgantown are crucial to people from all walks of life. I know this personally because in 2009 my daughter and I began a weekly excursion to the Oakland-Grand Lake Farmer's Market, easily the best one of its kind in the Bay Area of California, and chock full of farm fresh goodies from around the region. This market, not far from Lake Merritt, also featured fresh flowers, pretty plants, food vendors, and—my personal favorite—live music. Those early Saturday morning forays were better than any festival I've ever attended.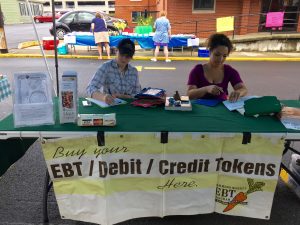 They were also far healthier, featuring natural, organic, and pesticide-free food. Which is why I was thrilled when the Morgantown Area Farmer's Market decided to expand a few years ago. Now you can shop in the shade, where, on Saturday morning from 8:30-noon, a parking lot beside the Spruce Street United Methodist Church transforms into a fragrant food stand, even featuring produce that was plucked from the garden only a few hours earlier.
I guarantee you will not find food this delicious at your local grocery store. You won't find the farmers who grew it there, either, ready to answer your questions and personally serve you from the bounty of their hard work.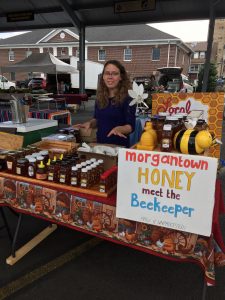 What you will find is a crowd of milling people, parents with baby slings wrapped around their chests, dogs on short leashes, all sauntering up and down the market picking out organic food such as fresh eggs, garlic scapes, bok choy and leafy greens of every variety, raw honey, cherry tomatoes and cherries, along with a wide variety of homemade baked goods and farm-raised fresh meat—including lamb. Don't forget to exchange your EBT, paper or plastic dollars for tokens, which can be found at the top of the market closest to the church. You can even say hello to Ashley when you do so.
And remember, farmer's markets are not just for yuppies, Millenials or the middle class. Widows, single parents, college students, the unemployed, and families down on their luck, so to speak, can all afford to buy the best food available—at area farmers' markets—thanks to the EBT card.
* * * * *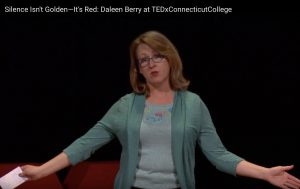 Dear Readers,
My seventh book, Shatter the Silence, a love story and the long-awaited sequel to my memoir was released May 2016. That's on the heels of Tales of the Vintage Berry Wine Gang, a collection of my newspaper columns from 1988-91, which came out in April 2016.
For an in-depth look at the damaging effects of the silence that surrounds abuse, please watch my live TEDx talk, given April 13, 2013, at Connecticut College.
Have a great day and remember, it's whatever you want to make it!
~Daleen