Me Before You: Neither the Novel Nor the Movie Disappoint
Editor's note: This article contains spoilers.
I love watching movie trailers. So when I saw the one for Me Before You several months ago, the first thing I did after leaving the theatre was Google the title, where I discovered the newly-released flick was based on the 2012 fictional novel by British journalist and author Jojo Moyes.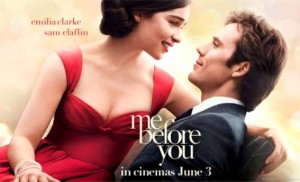 I don't always have the luxury of first reading a book before seeing the related movie, but I did with Me Before You. How could I not? Moyes's book has thousands of reviews at Amazon, with an average of 4.6 stars, which means it was either a good story or well written. Or both. Turns out, it's both. I love Moyes's writing style and the way she weaves a complex, compassionate tale about the wealthy, albeit depressed Will Traynor, a quadriplegic, and his upbeat, cheery caretaker, Louisa Clark.
Like many women, I also love a good love story.
While taking Megabus to New York City recently, I had nothing but time so I opened the Kindle app on my iPhone and began reading. The bus pulled out of Pittsburgh, Pennsylvania, about 11 p.m. I couldn't stop turning the electronic pages until my eyes grew so heavy they would barely stay open. It was after 1 a.m.
On my way home from NYC, I began reading again. By the time I finished, I was glad I had thought to pack some tissues in my backpack, because, as my father would say, Me Before You is a real tearjerker.
Last weekend, some friends and I went to see the movie. As we left the theatre, I couldn't help noticing an older couple behind us. He was wiping his eyes. One of my friends saw it, too, and once outside we wondered if he had lost someone like Will. Or if the couple had a loved one who committed suicide.
That's because, at its heart, Me Before You is a love story, but it's one which also deals with the controversial issue of assisted suicide, or euthanasia. Will Traynor doesn't want to live as he is, trapped in a chair while in almost constant pain. He wants to be the "me" he was before the accident that turned him into a quadriplegic. Before "you," or Louisa Clark enters his world.
Several excellent articles have been written about the ethical and moral dilemma euthanasia raises, so I'm not going there. I will say that, having faced and overcome suicidal tendencies in the past, I can understand why Will made the decision he did. But as someone who has never been trapped in a wheelchair, I am not in a position to judge anyone who makes the choice he did.
Louisa, or Lou, as her family calls her, is such a bubbly, joyful character that we root for her, in her efforts to change Will's mind. She is one of those people you'd like as a friend, a woman whose smile never fades. (Well, not for long.) Who is sure to pick you up, when you're feeling down. Or goad you into finding a reason to laugh over your miserable lot in life. She is literally an adult Pippi Longstocking, with the stockings to prove it. I can't wait to see how Lou fares in her life after Will, since her life "before (him)" was dull and boring.
If you're a reader, get the book. You won't be sorry. (Then take your significant other to see the flick on date night.) In the movie, the story arc of Me Before You is unwavering, and actors Emilia Clarke and Sam Claftin give a spot-on performance. However, it omits two other supporting storylines: gang-rape and the legal questions that arise from assisted suicide. Moyes tackles both topics deftly, in a poignant way that left this reader longing for September, when her sequel arrives.
* * * *
My seventh book, Shatter the Silence, a love story and the long-awaited sequel to my first memoir was released May 7. That's on the heels of Tales of the Vintage Berry Wine Gang, a collection of my newspaper columns from 1988-91, which came out in April. Prior to those two books, Guilt by Matrimony was released last November. It's about the murder of Aspen socialite Nancy Pfister.
My memoir, Sister of Silence, is about surviving domestic violence and how journalism helped free me; Cheatin' Ain't Easy, now in ebook format, is about the life of Preston County native, Eloise Morgan Milne; The Savage Murder of Skylar Neese (a New York Times bestseller, with coauthor Geoff Fuller) and Pretty Little Killers (also with Fuller), released July 8, 2014, and featured in the August 18 issue of People Magazine.
You can find these books either online or in print at a bookstore near you, at BenBella Books, Nellie Bly Books, Amazon, on iTunes and Barnes and Noble.
For an in-depth look at the damaging effects of the silence that surrounds abuse, please watch my live TEDx talk, given April 13, 2013, at Connecticut College.
Have a great day and remember, it's whatever you want to make it!
~Daleen
Editor's Note: Effective June 2, 2016, Ms. Berry's blog began appearing each Thursday, rather than Monday, as it once did. Berry is a New York Times best-selling author and a recipient of the Pearl Buck Award in Writing for Social Change. She has won several other awards, for investigative journalism and her weekly newspaper columns, and her memoir, Sister of Silence, placed first in the West Virginia Writers' Competition. Ms. Berry speaks about overcoming abuse through awareness, empowerment and goal attainment at conferences around the country. To read an excerpt of her memoir, please go to the Sister of Silence site. Check out the five-star review from ForeWord Reviews. Or find out why Kirkus Reviews called Ms. Berry "an engaging writer, her style fluid and easy to read, with welcome touches of humor and sustained tension throughout."