Immigrant Families: Forever Scarred by Forced Separation
Note: Some of the following comes from book three in my Appalachian Families series, which I'm in the process of finishing.
Never mind that President Trump signed an executive order today to stop families from being separated at the border—because, at this moment, they still are. For these families, the damage is already done. I know this only too well.
That's because the day my children were torn from my arms, I cried so much it's a wonder I didn't turn into dust and blow away.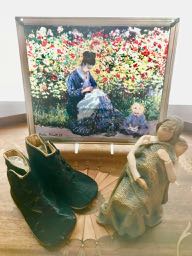 It was 21 years ago, and yet the pain was so great it sometimes still haunts me like it happened yesterday. Then my heart feels so full that I am afraid to cry, to shed my tears, worried they will sweep me all the way down the Mississippi River and into the Gulf of Mexico, where I will end up floating in the Atlantic Ocean. Except once there, I will still be crying, unable to ever stop, becoming one with the water.
I heard the judge that day, the day my world changed forever. But his words didn't make it all the way to my cerebral cortex. They sizzled inside my ears, bouncing back and forth while my brain tried to grasp their meaning.
How can you take my children?
Before my thoughts could even become words, the judge spoke. "You can appeal the decision." Then, a few words from my attorney. I didn't even hear what she said. All the energy I had been holding tightly inside dissipated as quickly as if I was a balloon animal that someone stuck a pin in. My knees gave out and I crumpled to the floor.
I'm sure this decades-old pain haunts my four children, as well. The scars are hidden beneath our skin, and riddled with shrapnel that no one sees. But we know they're there.
Our scars remain today, and while we tried to overcome the damage done, it was impossible. Too many things happened during our three months apart, words spoken, actions taken, that were irreversible. But the most crucial element, I believe, to hinder our healing, was the individual thoughts we carried with us from that day forward. Why did you leave me? How could you do this to me? When will you come get me?
And then, when I couldn't go get them—because the law forbid it—this: What did I do wrong? Why don't you want me anymore? Why don't you love me?
What I've personally heard about the current family separation, which is amoral and inhumane, hit me so hard it took me a good long week to even write about it. My first thought, upon learning that parents were told their children were being taken for a bath—only to not be returned—was of the Holocaust. Similar lies were told then, too. Jews, Poles, Jehovah's Witnesses, Gypsies, many of their families were torn apart, never to be reunited. My first public comment, on a friend's Facebook page, was "Can anyone say Gestapo?"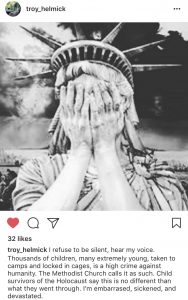 Make no mistake, following a forced separation, these immigrant families will never be the same again. It is unnatural for children to be separated from their parents in this way. The child, the mother, the father—all three will carry these scars for the rest of their lives. Such a separation creates a hole in a child's heart. A hole that will be filled with sadness, self-doubt, and anger. Anger that may later turn into rage.
While these feelings may diminish over time, they will never completely disappear. At best, they will rise to the surface during stressful situations, boiling over like a pan of hot milk left unattended on the kitchen stove. At worst, they will be buried deeper than our cemetery dead, so far down in the dark earth that you cannot see or feel them.
Being plagued with a gnawing sense of hopelessness condemns you to a life lived looking over your shoulder, forever trapped in the past. This failure to process your feelings will impede your ability to grow, to move forward. Even after you are reunited—if you are. But make no mistake, you won't be the same person ever again.
Neither will your children.
The best you can hope for is to tap into your own well of resilience, to keep going. To try and thrive. Counseling can help. But even a trained therapist cannot always dispel the fear, or reverse the damage done to these children. Or their parents.
The Department of Homeland Security says that since May, 2,342 children were placed in what the world views as cages. (The practice of U.S. officials keeping children locked up is not new; nor does this number include thousands of other detained children, who entered the U.S. without their parents.)
Aside from the trauma these families must endure, what else has such a "zero-tolerance" policy wrought? Have we returned to a Dickensian era, a land fit only for the orphaned Oliver Twist? I thought internment ended with the Japanese. Have we learned nothing?
Apparently not. Even though we've known for more than 100 years that keeping children away from their families is traumatic. President Theodore Roosevelt convened the first White House Conference on Children in 1909. There they determined that "children should not be deprived of (home life)" by being placed in an institution. Instead, they should be placed with foster families.
Later, numerous studies found that children raised in orphanages suffered from "the inability to bond, inability to effectively problem solve, inability to turn to others for help, poor peer relations, disciplinary problems, disruptive behavior." And the current detention camps make those orphanages look like a playground. Given that these children range in age from babies to teenager, how many of the younger ones have already been molested by an older child? Or a caretaker? Judging from the disturbing video and audio clips, the sounds and sights of sobbing, traumatized children, these places are obviously worse than orphanages, which lost favor with the American public in the 1960s. No wonder the world, including the Pope and the United Nations, has condemned the U.S. for its actions. At least orphans had trained caretakers who comforted them when they cried.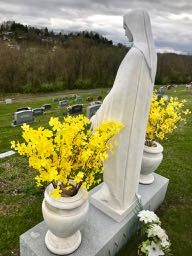 But this basic human right is being denied these children. Children who should soon be reunited with their parents—but aren't yet.
The very notion that no one is allowed to comfort these distraught children makes me furious! How is that even possible in this day and age, when we know that such cold and callous behavior is abuse? When we know that human touch is critical to good mental and physical health? That such a pattern can lead to severe emotional problems?
As proof, consider the famous artificial mother experiment conducted by psychologist Harry Harlow. He showed how crucial comfort is to humans, when, given a choice between a cloth mother and a wire one, isolated baby rhesus monkeys preferred spending 18 hours a day with the cloth mother, as opposed to spending only one hour a day with the wire one. This, even though the wire mother held the bottle the babies nursed from!
In an op-ed to The Washington Post, former First Lady Laura Bush spoke up about this lack of compassion and empathy. There, she told how Barbara Bush once held and cuddled a crying child who was dying of AIDS, apparently when no one else would.
Let's learn from her, and do better. We can. We must!
* * *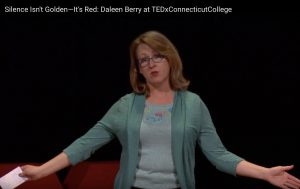 Dear Readers,
My seventh book, Shatter the Silence, a love story and the long-awaited sequel to my memoir was released May 2016. That's on the heels of Tales of the Vintage Berry Wine Gang, a collection of my newspaper columns from 1988-91, which came out in April 2016.
For an in-depth look at the damaging effects of the silence that surrounds abuse, please watch my live TEDx talk, given April 13, 2013, at Connecticut College.
Have a great day and remember, it's whatever you want to make it!
~Daleen