I Found My Heart – In San Francisco
The last time I visited Lombard Street was in 1997. Until Friday morning, when I drove down the famous, curvy street, again – almost 20 years later. Have you ever noticed how, when you live in an area, life is so hectic you don't often visit the local landmarks? And how, when you return as a tourist, you do?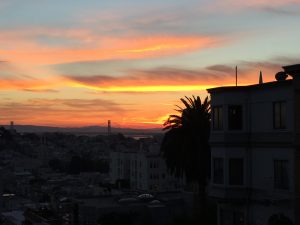 You have to make time then, because time is all you have.
I'm not exactly a tourist, though. I was born here, in this land of the "flakes, fruits, and nuts," as some people say. And I've lived, and worked, here before. As I am again.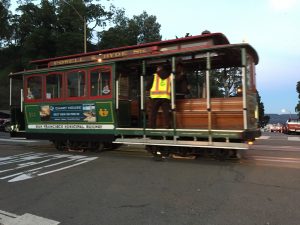 I left West Virginia in August, intent on a cross-country road trip but then uncertain where it would lead me. I still don't know my final destination, but it will be here, somewhere in this state. I've decided to stay here. For years, I've been torn between two coasts – and four children. My two daughters who live in West Virginia, and my son and his sister, both of whom live here. It's been difficult, to say the least, and every time I returned from California, I felt like I left my heart behind, somewhere in San Francisco.
So it was time. Time to pull up stakes and return to the place of my birth, like my father did before me, when he traveled from California to West Virginia in 1969. But my situation is different. I have two adult children here. Who, although adults, need me. And whom I need, just as much. I miss West Virginia and the people I left behind. But nowadays, social media and Skype make it easier than ever to live a continent apart.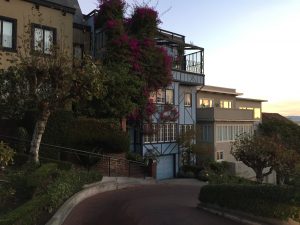 When I drove across the Bay Bridge Thursday afternoon, I never dreamed I would enjoy a culinary feast of the finest kind. San Francisco, you see, is one of a few cities where dining is an experience. Nor did I know that a handsome young fellow intended to take me to the Embarcadero for oysters at Water Bar. A place which he says, "offers the best seafood in the city."
Or that, after appetizers, he and Glenn, a new friend, planned to cook lobster for me. Talk about a day of new and exciting experiences, unlike any other. We dined in the living room, on salad, sourdough bread, and the sweet meat of the crustaceans, dipping it in drawn butter. All while watching Finding Nemo, an irony not lost on any of us.


I didn't expect to spent the night, but it turns out there was an empty bed. So Friday morning I woke up in a strange place, memories of a delicious dinner in the most romantic city in the world swirling around in my mind. And love filling my heart for the two men who made it, one of them my son.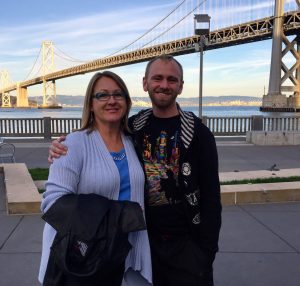 As I left San Francisco, heading north to my temporary home, I wanted two things: a good, steaming cup of java, from one of the corner coffee shops that can be found throughout the city, and a sunrise photo. When I checked my GPS, I was delighted to learn that Lombard Street was only ten minutes away. How could I possibly pass it up? I couldn't.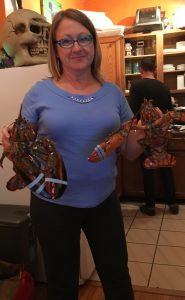 I arrived at the perfect time, just as the sun's early morning rays touched the steel beams of the Golden Gate Bridge in the distance and bounced off the windows of the Lombard Street homes below me.
But it was perfect for another reason: I met Terry, a woman who lives on this famous street, and who greeted me and the only other person around with a smile. "Isn't it a glorious day to be alive?" she asked us. He was German and his photography equipment was that of a professional. And although he didn't speak English, the amazing sunrise we shared transcended the language barrier, as he snapped a photo of Terry and me.


Life is good. Very, very good – and it's just beginning.
Editor's Note: My website is being revamped, and more changes are in the works. So I hope you'll pardon the mess and be patient, as I iron out all the kinks.
* * *
My seventh book, Shatter the Silence, a love story and the long-awaited sequel to my memoir was released May 7. That's on the heels of Tales of the Vintage Berry Wine Gang, a collection of my newspaper columns from 1988-91, which came out in April.
For an in-depth look at the damaging effects of the silence that surrounds abuse, please watch my live TEDx talk, given April 13, 2013, at Connecticut College.
Have a great day and remember, it's whatever you want to make it!