Driving Through the Wild, Wild West
Leaving Mississippi last Monday, I turned my little car west and drove across miles and miles of flat Texas land, thinking of my father and our trips south to see him each summer, before his death in April 1999. While Dale Berry's final resting place is in our family plot somewhere up a holler at the top of a Jackson County, West Virginia, mountain, those Texas tumbleweeds I passed will be forever synonymous with the man he was.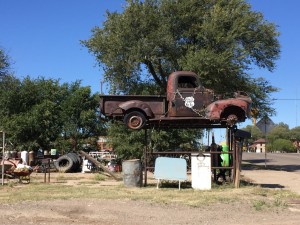 It seemed appropriate to stop in Mesquite, Texas, for the night. After all, we used to light up the limbs of a tree by the same name, grilling many a burger and steak for family cookouts. My grown children may not remember, but nothing much beats the flavor of mesquite, when it comes to wood smoke and meat.


I got on the road quite early Tuesday morning, planning to reach Cochiti Reservation by nightfall. Twelve hours later I did, and found myself in the home of a local artist who graciously let me have the run of it for my visit. I felt like I was in a Native American art gallery, and it was exquisite.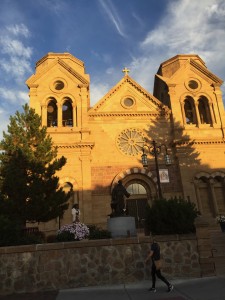 Wednesday morning began with a big breakfast of huevos rancheros, which took me back to those authentic Mexican meals we used to eat in Texas. (And which my mother, herself the daughter of a chef and having been raised in the Southwest, often cooked for us.) Then was I in for a real treat: Lee Maynard chauffeured me to the top of mesas and all over the Jemez Mountains, turning into a tour guide as he pointed out such local sights as Cochiti Dam, the artisan town of Santa Fe, Bandelier National Park, Valles Caldera, formed by an ancient, mega volcanic eruption, and Los Alamos, not far from where the Manhattan Project was developed. And where we ate the best sushi ever.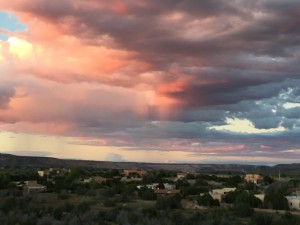 Before I met Lee several years ago at the Annual West Virginia Writer's Conference, he was more of a myth than a man. Once we became acquainted, it was easy to see that he was down to earth and really no different than most Appalachians. So I was happy to have him as my tour guide, and we enjoyed bouncing story ideas off each other. If there is anything a writer loves, it's having another writer to talk literary shop with. He regaled me with accounts about the area's colorful history and even deadpanned for the camera, striking a similar pose to one I took while holding my first book.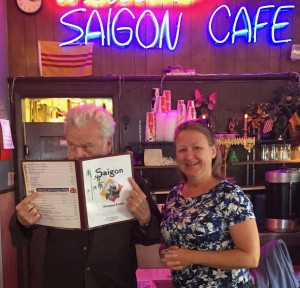 That wasn't as good as it got, either. The New Mexico sunsets I captured with my iPhone were absolutely, hands down, among the most beautiful I've ever seen. A Facebook friend wrote, telling me that the locals say, "the sky is on fire." And so it was – every single night. If you've never been there, you really don't know what you're missing. (You can still make this year's event, which lasts through Oct. 9.)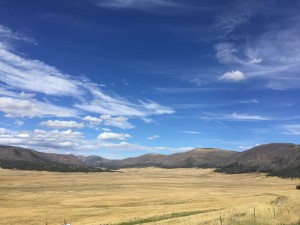 I didn't plan to stay in Cochiti as long as I did, but after learning that the largest balloon festival in the world was slated to begin in a few days, I hung around. I hit the road at 4 a.m. Saturday, Oct. 1, making it to the fairgrounds just in time for the 7 a.m. mass ascension. Where 550 balloons took to flight, providing a view of the sky unlike any other.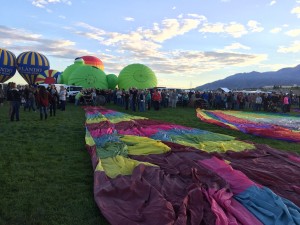 My trusty little iPhone captured some great photos, but I only wish I'd known about the Canon booth before my morning began. The company will loan you any number of its high-powered 35mm cameras, for free, and all you need is an SD card, which lets you take away as professional a photo as you're capable of shooting.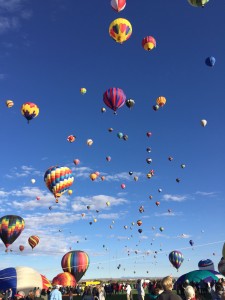 Hot air balloons have a longstanding legacy in my life: I read Around the World in Eighty Days as a child, rode in one as a passenger in 1988 as a green news reporter, and again a year later, at the Mountaineer Balloon Festival, and then finally, in 2002, I got married in one. In Las Vegas. So for decades, I have dreamed of seeing the Albuquerque International Balloon Feista. It was all I ever thought it would be. And more. I snapped photos of colorful silks covering the ground, of balloons in various phases of inflation, and of people watching the giant spheres as they magically floated up, up, and away. (For many more photos, check out my Facebook page and group.)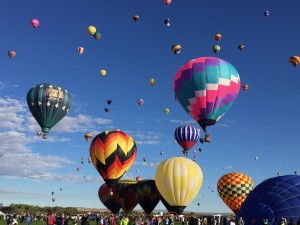 And next time I go – after experiencing this year's festivities, how could there not be a next time? – I will be shooting with a 35mm.
Although this journey has come to its end, my last day on the road was simply amazing. I hope you'll join me next time, as I travel from Flagstaff, Arizona, to Monterey, California. And to all points in-between.
* * *
My seventh book, Shatter the Silence, a love story and the long-awaited sequel to my first memoir was released May 7. That's on the heels of Tales of the Vintage Berry Wine Gang, a collection of my newspaper columns from 1988-91, which came out in April. Prior to those two books, Guilt by Matrimony was released last November. It's about the murder of Aspen socialite Nancy Pfister.
My memoir, Sister of Silence, is about surviving domestic violence and how journalism helped free me; Cheatin' Ain't Easy, now in ebook format, is about the life of Preston County native, Eloise Morgan Milne; The Savage Murder of Skylar Neese (a New York Times bestseller) and Pretty Little Killers , released July 8, 2014, and featured in the August 18, 2014, issue of People Magazine.
You can find these books either online or in print at a bookstore near you, at Amazon, on iTunes and Barnes and Noble.
For an in-depth look at the damaging effects of the silence that surrounds abuse, please watch my live TEDx talk, given April 13, 2013, at Connecticut College.
Have a great day and remember, it's whatever you want to make it!