Call to Action: Let's Save My Home
I've donated thousands of copies of my books—and I've never asked anything in return. Until now.
I've handed out my paperback books to friends and neighbors, coworkers and fellow BART passengers, libraries, schools, shelters for abused women, waitresses who gave me excellent service, and waitresses who simply looked like they were having a rough day. I've also given away thousands of free downloads, especially my memoir, Sister of Silence. (In fact, until recently, it had been free for more than one year.)
I've helped other people, too, like John, the man who sat outside in a snowstorm this year, trying to collect enough money from passing drivers so he could replace his broken wheelchair.
Now, faced with the prospect of losing my home, I need your help. Without it, I cannot keep writing the books you want. The ones about love and loss and depression and domestic violence. The ones that portray the darker side of life, while holding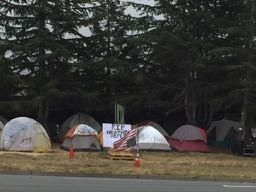 out hope and showing that laughter makes everything better.
Pretend I'm Harper Lee, since her friends gave the famous author enough money to live on while she wrote To Kill A Mockingbird. You can be my sponsor, benefactor, a patron of the arts, if you will. This centuries-old practice has helped support famous artists, musicians, and sculptors such as Beethoven, Vincent van Gogh, and Picasso.
So why not me?
Wikipedia describes patronage as "the support, encouragement, privilege, or financial aid that an organization or individual bestows to another. In the history of art, arts patronage refers to the support that kings, popes, and the wealthy have provided to artists such as musicians, painters, and sculptors. . . ."
This practice continues today, with NPR, the BBC, and great museums and art collections around the globe. As does the practice of artists giving back to their generous patrons.
I'm asking for you to be my patron, or benefactor. But not indefinitely, just until I save my home. And I will gladly give back to you!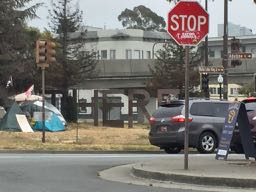 In today's world, a home is a precious commodity. Not everyone has one, and many people lose theirs every day. I know this well, having driven past many tent cities in Oakland and Berkeley, California, while searching for my own daughter in 2016. I could hardly drive by without crying, because it broke my heart to see those ravages of once middle-class families. Especially since the loss was through no fault of their own. Instead, it's due in large part, my good friends there told me, to giant tech firms like Facebook, Google and Apple, whose presence in Silicon Valley has led to skyrocketing rental prices in the Bay Area.
Not many writers, or artists of any kind, can afford a home without help from their parents, a spouse, or someone else. People who joke about writers getting a "real job" are not always joking. They may believe that we creative sorts simply don't want to work, that they enjoy having other people pay their bills.
Nothing could be further from the truth. I was paid advances of $12,500 and $10,000, respectively, for the last two true-crime books I wrote. Many days, for months on end, I worked 18 hours a day, simply to meet my deadlines. While working on the Skylar Neese case, I even wrote all night long, for two nights in a row. My literary agent all but ordered me to stop writing and go to bed. "You're killing yourself," she said, when she called from 3,000 miles away to chastise me.
I don't like not earning enough money to support myself, but as a writer, I'm far from alone. And while my husband was alive, it wasn't a problem. His income mostly covered my expenses. I say "mostly" because toward the end of his life, our income was dramatically reduced. With his death, it evaporated completely.
A local attorney, after hearing my plight, took this case. And he's counting on me to pay him—but I need you to help me do that. Because I can't. Not when my book royalties are less than $100 a month. Not when every day is spent trying to fight this battle, leaving me no time to even substitute teach. That's why I've begun a GoFundMe page and I'll keep it up for as long as I need to—but not a minute longer.
There, I offered to send a free ebook to everyone who donated at least $20. For $40 or more, I will send you a signed, printed copy of one of my books. I want to show my gratitude for your patronage. But to do that, you must send me your email or mailing address. GoFundMe does not provide it. Please don't forget!
Until then, I think Alice Brown, who donated to my campaign, said it best:
"Can everyone that sees this donate JUST $5? Five meager bucks. This weekend, you'll spend five bucks on candy, booze, flowers for your mama, whatever. Can you spend $5 on someone who is about to lose her home?! I want you all, right now, to think of The Terminator (Arnold): 'JUST DO IT!' Daleen only needs 3400 more people with a heart/soul to send in $5. Hell, I've seen you all send out cute videos of your dog being chased by a chicken with views over 50K! Can you do any less here? PLEASE! Send this link to EVERYONE on your contact list and ask them to make a $5 donation AND ask them to forward the link onto their contacts. Would you want your mom to lose her home over a legal technicality? Do what's right, right now. Don't wait. Send $5 lousy bucks. It's Easter for crying out loud! Don't make me lose faith in humanity any more than I already have. $5 stinking bucks."
Writing is my chosen form of art, but I can't do it without your support. Please consider becoming my benefactor, so I can continue writing the books you love.
* * *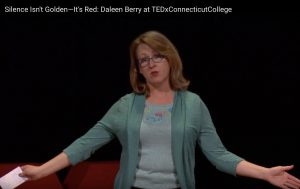 Dear Readers,
My seventh book, Shatter the Silence, a love story and the long-awaited sequel to my memoir was released May 2016. That's on the heels of Tales of the Vintage Berry Wine Gang, a collection of my newspaper columns from 1988-91, which came out in April 2016.
For an in-depth look at the damaging effects of the silence that surrounds abuse, please watch my live TEDx talk, given April 13, 2013, at Connecticut College.
Have a great day and remember, it's whatever you want to make it!
~Daleen