Eternally Elaine: Goodbye, My Book Club Friend
A few nights ago while thumbing through my Facebook feed, I saw that my friend Megan Krome had shared someone's post. I clicked—and what I read shocked me. Megan's mom, Elaine Muirhead Hagebush, had died.
The impact of her death didn't really hit me until the next morning. Elaine, you see, was also my dear friend. I knew about her debilitating migraines, the medicines she'd taken, the new ones she'd tried, and how the meds sometimes made feel like she was on a rollercoaster. But I'd had no idea that Elaine was so sick she'd been hospitalized.
We first met online, on Jan. 13, 2011. Elaine reached out to tell me how much she enjoyed my memoir. She knew about Sister of Silence because she was immensely proud of Megan, who created the stunning book cover. That would not have happened, had Megan's dad and Elaine's husband, David, and I not been on the same flight months earlier. I still consider that serendipitous meeting one of the best things ever—because it led me to Megan and her amazing artwork. And later it led me to Elaine, who was simply delightful.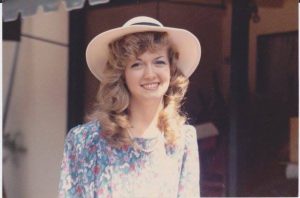 Elaine and I met in person in July 2011, when the Bollinger Book Club gathered together inside her home. She was an avid, engaged reader who loved sharing her thoughts and feelings about the books she read. And Elaine was so enthusiastic about Sister of Silence that she practically turned into my public-relations genie. And when Elaine waved her magic wand, she connected me to her bookworm friends throughout California and beyond.
Along the way, we bonded over recipes and funny stories and tales about our children and, oddly enough, our love of chinchillas. We also talked about domestic violence and its impact on society. That's how she became board president for Samantha's Sanctuary, my (now defunct) nonprofit. Elaine was happy to take on that role because she cared deeply about helping abused women and children.
I loved Elaine. She was warm and witty and whimsical and compassionate. She also showed a high degree of emotional intelligence, which is exceedingly rare. Elaine didn't judge you: she just loved you. She made me laugh and brightened my day with her zany sense of humor, which usually involved a hilarious pet tale.
Like the one about Kayley. The soft-as-silk chinchilla had been relegated to sleeping in the hallway since, Elaine said, "her nocturnal ramblings" kept Elaine and David's other two children, Rachel and Chris, awake. I told Elaine how Avery, our chinchilla, had chewed through the wooden handle on an antique dresser. She said Kayley did the same to a closet door. "We now have a nice ruffle up and down the door. It's beautiful really," Elaine said.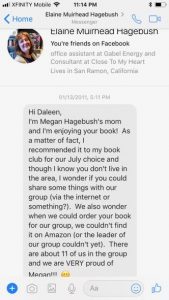 Then she regaled me with another story of an "amazing feat of rodent naughtiness." I couldn't stop laughing as I read Elaine's words, when she wrote about how Kayley had sprayed a family member during the holidays.
It was her exuberant cheer, her desire to befriend others, that made Elaine such a gift to us all. Over the years, I have often recalled that evening in the Hagebush home, surrounded by Elaine's family and her dear book club friends. And the way she reached out to area bookstores and librarians, promoting my book. All because she wanted to. Because that's the kind of friend Elaine was. She had no hidden agenda. She wasn't just nice—she was kind.
I still remember how much fun we had, how hospitable Elaine was, and how she invited me to join her online book club, named—what else?—Elaine's Bookshelf. There, I met an archeologist, Doug McIntosh, and then his wife, Julie, and their daughter, Dagny. Meeting Doug led me to his parents, who graciously offered to let me use their brand new guest cottage while I was in the Los Angeles area in 2012. They gave me lodging and friendship, taking me to dinner at Knotts Berry Farm. Elaine did that.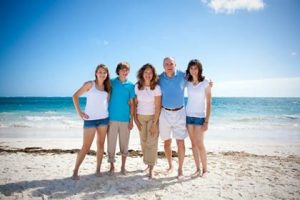 Ditto for introducing me to her dear friend Andrea Souza. We became friends while exchanging my books for Andrea's amazing artwork inside a Tracy, Calif., coffee shop. Then there are Kim and JoAnn and Jocelyn and Tatiana, Miriam and Brenda and Mary. . . . and the list goes on. It is endless, really. Women who knew Elaine, her book club friends, formed from real-life and online friendships. Women who knew her far longer, and who are even more brokenhearted than I am, that this lovely lady is no longer with us.
Elaine loved all kinds of books. She also loved my writing, and kept urging me to write more books. So I did. Not just because of her, but largely so. Because it's important to know that people want to read what you write. That you have a voice others want to hear. Elaine encouraged my writing efforts, and that spurred me on.
As I sit here reading her words, I can hear Elaine's voice telling another tale: the one about how she toppled over backwards and fell down the stairs. The vacuum cleaner landed on top of her, sending her to the hospital. It wasn't as bad as it could have been, but the doctor found some kidney stones while she was there. "Never trust a Hoover," Elaine wrote.
No one but Elaine could tell a story like that and end on such a deadpan note. She was a natural-born storyteller. So please, wherever you are, whatever you are doing today, please pick up a book, and read a page or two, or even three. For Elaine.
* * *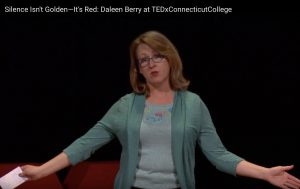 Dear Readers,
My seventh book, Shatter the Silence, a love story and the long-awaited sequel to my memoir was released May 2016. That's on the heels of Tales of the Vintage Berry Wine Gang, a collection of my newspaper columns from 1988-91, which came out in April 2016.
For an in-depth look at the damaging effects of the silence that surrounds abuse, please watch my live TEDx talk, given April 13, 2013, at Connecticut College.
Have a great day and remember, it's whatever you want to make it!
~Daleen