With the Ability to Speak Comes a Duty to Do So
MORGANTOWN, WV—So it is that I am now speaking out, loud and clear.
When I went public at Wednesday's Monongalia County Commission meeting, to shed light on Culp v. Wolfe and the court's interference in my role as executrix of the Culp Estate, I did not share all the details that have gone on behind the scenes.
For instance, I did not discuss the fact that Judge Susan B. Tucker's law clerk was then dating opposing counsel. Or, that on Oct. 30, 2018, I personally experienced and observed judicial bias, prejudice, and partiality in her court. I did not say that after I began researching her ruling that day, and found that it violated state code and legal precedence, I asked for a new hearing—which she refused to give me.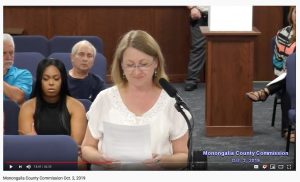 Because of these factors, I filed my first motion for Judge Tucker to recuse herself.
Nor did I say that she refused to do so. Or, that in her Dec. 17, 2018, letter to the W.Va. Supreme Court, Judge Tucker said she was "taken aback by (my motion) as it, whether intentionally or not, calls into question my ability to perform my duties as Judge and impugns my understanding of the importance of personal bias, prejudice, and impartiality."
If Judge Tucker understands the importance of personal bias, if she has the ability to rule without prejudice and partiality, then why did two prominent Morgantown residents tell me Wednesday, after I spoke up, that, "she's very vindictive," so I better watch my back?
And why are those two people only the most recent in a long line of others who tried to warn me about that, throughout the last year?
Did I believe them? Of course not! I believe in justice. In objectivity, fairness, and impartiality.
Well, I once did. But no more. Not now.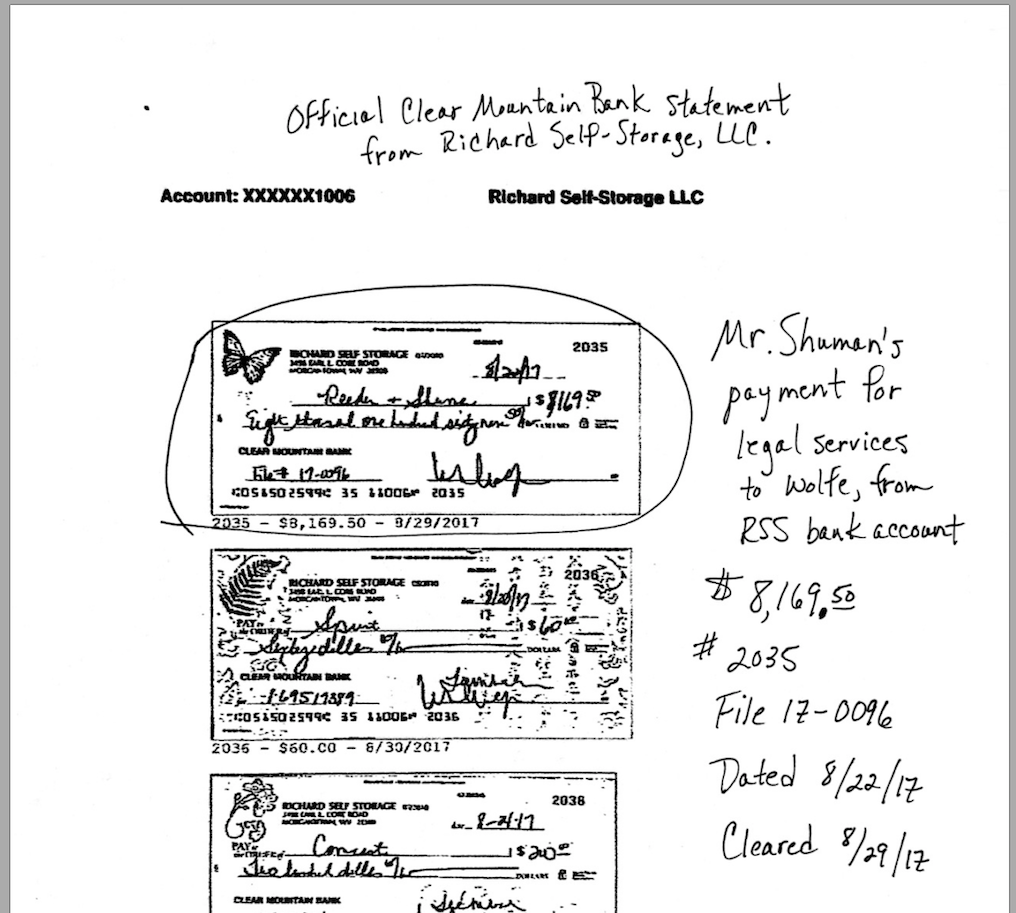 People who were in the commission audience stopped me on the street afterward, as I went from the Monongalia County Courthouse to the sheriff's office, to the Justice Center, to yet another attorney's office. They shared more accounts of equally disturbing judicial conduct.
For instance, on Wednesday, Judge Tucker demanded that an attorney—who was then in the middle of a hearing in another court—stop that hearing and come to her courtroom. The attorney refused.
"But (that attorney) will pay for it when (they) get to Tucker's court," this person said.
A fifth person who heard me speak insisted I could not possibly have done what I have, in terms of research and writing legal motions. This person asked me three times for the name of the attorney who is helping me behind the scenes.
I wish that were true.
I wish that my life had not been turned into a day-in, day-out war, in which my health, my financial security, my home, and now, my personal liberty and freedom are at stake—all because I stepped up to do the right thing. Because there was no one else who could. Or would.
No attorneys have done anything beyond perhaps citing a state code that I then researched myself. They have taken their oath to not give legal advice quite seriously. Far more seriously than Judge Tucker has taken her oath, to be unbiased and impartial. To herself be calm and respectful, to everyone who enters her courtroom.
Do you know how many attorneys have declined to take this case, after finding out she was the judge? I hear that every week, and have since 2018, when I first began looking for an attorney. And in the meantime, the attorneys who have been on this case made such serious errors that it created a nightmare for any legal expert who might even consider picking up the pieces.
So no, I'm pro se all the way, it would seem. That's why I told the person who insisted I've got an attorney working quietly in the wings, "No, because half the attorneys in this town don't want to go before Judge Tucker."
The reply was priceless: "You're underestimating that number."
It gives me no pleasure to make these comments public. (That said, I will protect those individuals' privacy.) I never wanted to go public about any of this. I certainly had no desire to criticize a sitting judge.
But after waiting one year for that judge to do the right thing, to listen to the plaintiff's side of the story, to read and analyze the plaintiff's evidence—both of which she's wholeheartedly done for the defense—and seeing not even one small step in that direction, she left me with no choice.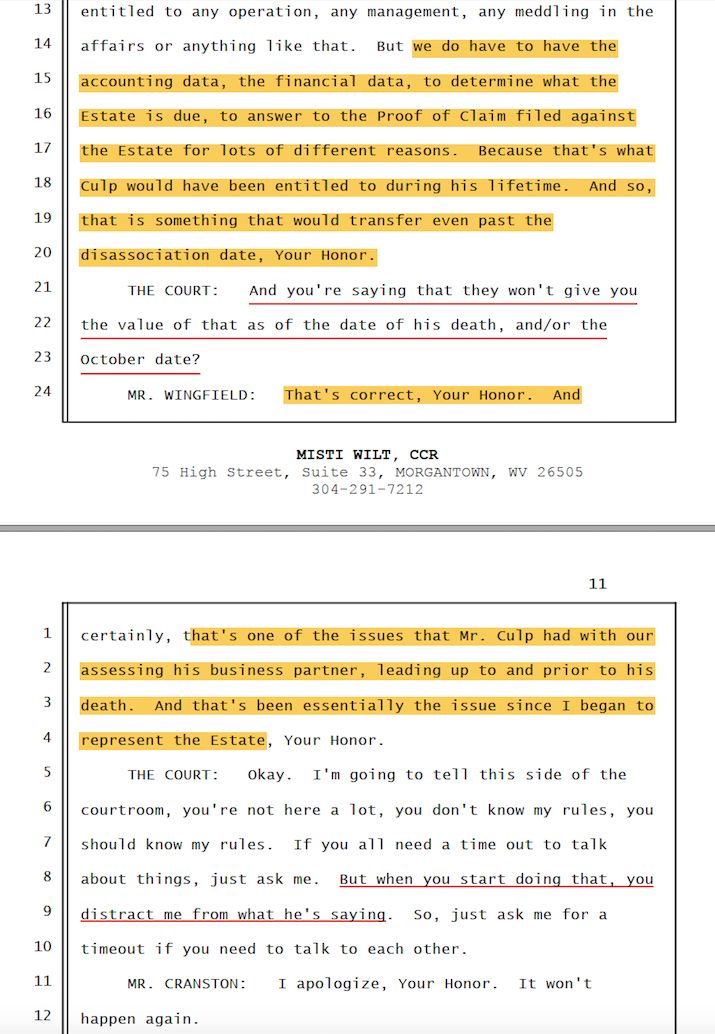 Not when she threatens to jail me for refusing to violate my fiduciary duty.
Not when she ignored my statements in open court on Sept. 24, that the defense attorneys have been complicit in their clients' financial misconduct: they have refused to negotiate in spite of overwhelming evidence which proves what their clients have done; they have, instead, defamed and maligned me to other attorneys, and threatened me with homelessness, which is tantamount to coercion and intimidation; and they have themselves accepted misappropriated money from my late husband's company.
While I did not publicly name defense attorneys Paul Cranston and Robert Louis Shuman on Wednesday, the Dominion Post did. No doubt they will claim such accusations are as baseless as the ones I made against Judge Tucker, who herself said as much, in her 2018 letter to the appellate court.
They would be wrong. Dead wrong, as the forensic accounting evidence now verifies.
Because even though I obtained the Richard Self-Storage bank statements in 2017, I do not recall then seeing that $8,169.50 check written by Wolfe to Shuman. The forensic CPA found it in August, and immediately recognized it for what it was: an expense that had nothing to do with my late husband's company. An expense which is, therefore, a misappropriation of financial assets.
That expense is one of many, many more just like it. And that is why, in the Sept. 20, 2019, response I filed to Wolfe's motion to confirm a ludicrous arbitration award, and evict me from my own home in the process, I asked Judge Tucker to order Cranston and Shuman to turn over every check and every invoice, regarding payments by Wolfe for their legal services in this lawsuit.
Because even though one check is all we found, the investigative reporter in me knows there are more.
And that is why Judge Tucker had an obligation to order the defense to open the books of my late husband's company, when we first told her in court on Oct. 30 that we have been trying to get those financial records for years—to no avail.
Did she? No. She did nothing to help. The official court transcript (p. 10, lines 21-23, and p. 11, lines 1-10) verifies this.
October 9, the deadline for me to breach my fiduciary duty and do as Judge Tucker ordered, or face being charged with contempt, looms large. This decision is not mine to make; the courts have already made it for me.
As I told the commission Wednesday, W.Va. Code §44-1-3 requires me to "faithfully perform the duties of (this) office to the best of (my) skill and judgment."
Giving away an estate that forensic evidence says is valued at a minimum of $1.3 million would violate my duties. So I cannot do that.
But even more important: Wolfe and his attorneys have used the court to continue his fraud. When it comes to that, the Hawaii Supreme Court ruled "'that DuPont committed discovery fraud upon the circuit court and the other parties. Fraud upon the court is a wrong against the institutions set up to protect and safeguard the public, institutions in which fraud cannot complacently be tolerated consistently with the good order of society.'" (Kawamata Farms v. United Agri Products)
So I ask, who will ensure that here, in Monongalia County Circuit Court, the fraud that has colored this case throughout, tainting every ruling Judge Tucker has made, is no longer tolerated?
* * *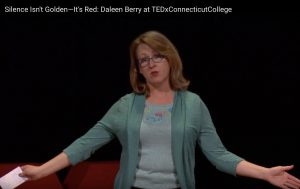 Dear Readers,
If you'd like to donate toward "Daleen v. Goliath" I could really use your help. Because if your donation doesn't go to buy paper and ink, it might just help me get out of jail.
For an in-depth look at the damaging effects of the silence that surrounds abuse, please watch my live TEDx talk, given April 13, 2013, at Connecticut College.
Thank you for choosing to read what I write. With the many and varied choices out there, I'm honored that you dropped by to visit me.
Have a great day and remember, it's whatever you want to make it!
~Daleen