It's All About the Service
MORGANTOWN, WV—I knew I shouldn't have done it. And yet I did. Sunday evening, so I had a free hand to open my car door, I placed the massive pile of papers I was holding on the hood of the car. Near the windshield, where I thought it would be safe.
Then I watched, as if in slow motion, as they slid off and onto the ground below. I leapt forward, catching some. Looking, in utter frustration, at the heap that had landed on the ground Sunday evening.
Two hours of painstaking legal work at the WVU Law Library, in which I had sorted and separated and collated at least 2,000 pages of paper, was undone in seconds. A few minutes earlier, a student librarian had told me the library was closing at 5 p.m. Still, she waited patiently as the printer continued nonstop, spitting out the pages I needed for my appellate filing, until 5:10 p.m., when it stopped.
She saw it all happen, and in spite of me being the cause of her leaving work late, she walked over and began picking them up for me.
These kind gestures, from people I don't even know, are like sustenance. As were the words of a man in McDonald's this morning. "Don't give up," he said, after his friends said they were glad to see me. Glad that I was not in jail. Glad that I remain in my home.
Sunday night I managed to untangle the paper trail. Sorted everything. Assembled it. Spent the night awake from an asthma attack, brought on by the fresh ink from the printer. Monday, I drove back to the West Virginia Supreme Court of Appeals, where I delivered my documents.

While the appellate court decides whether to docket my appeal, and give me a chance to win back my late husband's estate (keeping my home in the process), I knew I had work to do. I wasn't sure how to do it, though. So I filed a reply to the respondents' response.
In court, you file a motion. The other side files a response. That's "two swipes," so I'm told. In circuit court, I was the plaintiff; they were the defendants. In appellate court, I'm the petitioner; they are the respondents. Same roles, different titles.
But here's the only thing that matters: I learned yesterday, one day too late, that you are not allowed to simply file a reply (since that's a third "swipe"). You must ask permission to do so—in the form of a motion. So I went to work, writing a motion to do just that. Then I wrote another motion, to ask for permission to fax the motion. (Are you confused yet?)
Both motions had to contain grounds as to why the court should grant my requests. My grounds? Well, your honors, I'm asking this because even overnight mail won't reach you in time—if you decide not to grant my appeal. So time is of the essence. Then I faxed them all to the appellate court.
Why didn't I know the rules, or this procedure? Because I never went to law school. And I'm learning that there is a reason attorneys charge $200-300 an hour. Because legal work is extremely time-consuming, as well as mentally taxing. Too, there are different rules for different courts, and sometimes the rules overlap. Or you have to refer to the lower court rules even when filing documents in appellate court.
All I know is that by Monday night I didn't care if I never saw another legal document again. Ever.
But that is not in the cards, it would seem. Because this morning I called the appellate clerk to check on the status of my case. The only news was that the defense attorneys, on behalf of their clients, the respondents (aka Nate Wolfe, Lea Walker, and Landscapes Plus), filed a motion (or a response) to strike. That's all I was told. Still, that means my appeal is alive and kicking for the time being, right? Which is good news.
There's a problem, though. I know what "strike" means, even though I have yet to see the document they filed. (It means they don't want the court to consider it, at all.) Which I have not and may not, for some time. That's because, as a precaution, and in the event I lose my home, I changed my address November 8. But to date, I've received no mail in my old mailbox—or in my new.
This is a problem. And it could be disastrous. Then again, if you are not served, if you do not receive the legal documents (or, depending on when you receive them, I have also heard), it could be fortuitous.
I'm not sure yet. All I do know is that today, I called a friend who's a retired postal employee. "File a complaint online," he said. I did. I also called the appellate court to tell them I am not getting my mail.
I'm not sure how many more stones I'll need for my slingshot, but if this was a boxing match, I think we'd be in round twelve. The good news is I'm learning a little more each day. Not that I can hold a candle to paid legal professionals.
Each mistake I make reminds me of that—while teaching me what to do different next time.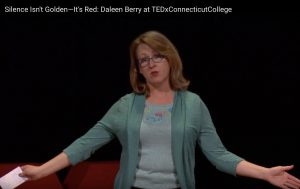 Dear Readers,
If you'd like to donate toward "Daleen v. Goliath" I could really use your help. Your donation will keep the lights on, and help me buy paper and ink, as I continue fighting in the Supreme Court.
For an in-depth look at the damaging effects of the silence that surrounds abuse, please watch my live TEDx talk, given April 13, 2013, at Connecticut College.
Thank you for choosing to read what I write. With the many and varied choices out there, I'm honored that you dropped by to visit me.
Have a great day and remember, it's whatever you want to make it!
~Daleen