Pursuing Justice in the West Virginia Supreme Court
MORGANTOWN, WV—Seeing the words in black and white was not as exciting as I thought it would be. Perhaps that's because the WV Supreme Court order is more abstract than I expected. Or hoped.
When I found the order in my mailbox today, I realized that Culp v. Wolfe is still very much in limbo. From the sound of things, there is still more legal process to play out.
More to unfold, then, in Daleen v. Goliath, it would appear.
I file a petition. The defense responds. The WV Supreme Court decides.
How will this all play out in the meantime? That remains to be seen. Will Wolfe be brazen enough to decimate my late husband's company, Richard Self-Storage? Will the defense attorneys try to evict me on November 1st? If he does, if they do, can I stop any of it?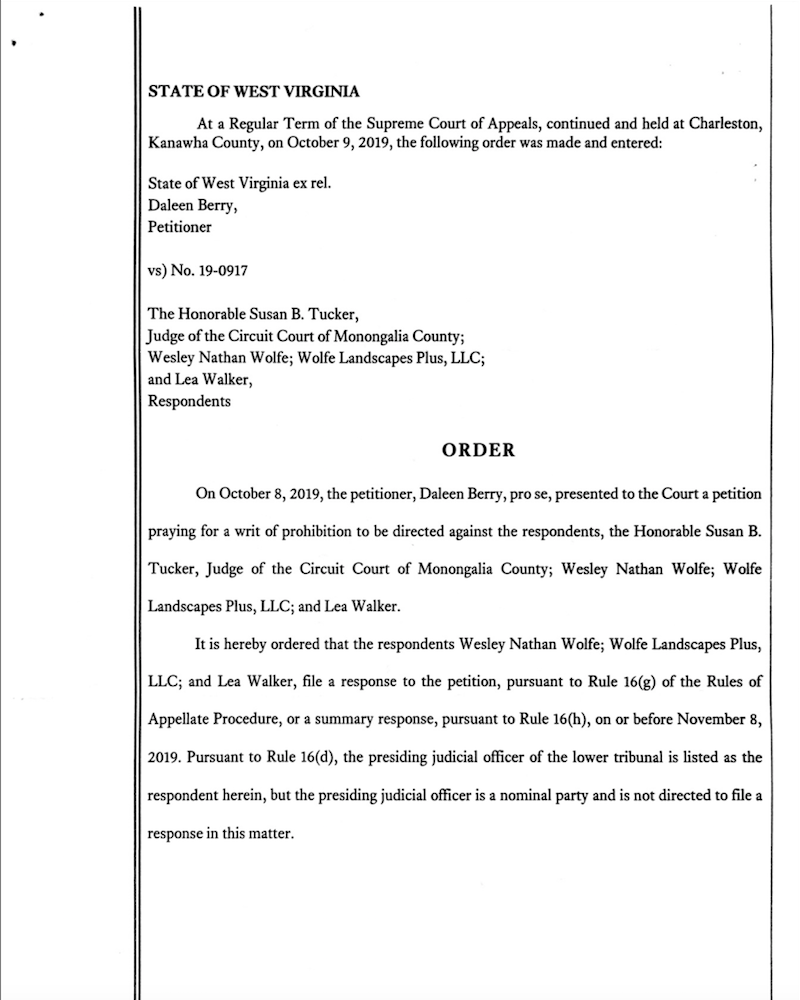 I don't know. I feel like I know less today than I did yesterday, and that's what is so frustrating. I only know one thing for sure: this entire case is based on the fraud Nate Wolfe carried out from 2008 forward, as he and his sister, Lea Walker, slowly and methodically stole everything that Butch Culp had slaved for some 40 years.
I do know that when the dust settles, there is enough evidence to send them both away for a long time. The crime reporter in me knows this. For a fact. That's what funneling money from one company to another will get you. That's what forging someone's name on company checks does.
Especially when you keep doing it after that person is dead.
That's what lying to workman's comp, the IRS, and the Social Security Administration will do.
So whatever Wolfe and Walker may think they're getting away with now won't last forever. Too many people have talked. Too many people have shared their stories with me. Stories that I, in turn, have shared with the authorities.
You know why crooks get caught, right? Ask any good police investigator. They know: crooks get caught because they're dumb. They make stupid mistakes. There is so much evidence, in nine years of emails and text messages, fraudulent invoices, and payroll information, to prove these two crooks aren't very smart.
But they do have one thing going for them: they have Butch Culp's money. Which they are using to pay their high-priced attorneys. On Jan. 15, 2018, I learned that Robert Shuman's legal services for Wolfe and Walker then totaled $112,000. (And that doesn't even begin to touch what Paul Cranston is charging. Man, what they must owe these two attorneys now!)
That is what galls me the most. I have no money to hire an attorney—because Butch's estate is paying the defense attorneys. The money Butch couldn't get before he died, the money I've been unable to get since then, is money Wolfe and Walker are paying to their attorneys.
The irony hit me a long time ago. I laugh about it sometimes, in a "How ridiculous is this?" kind of way. Most times, I just look at these two men and wonder when they sold their souls to the Devil.
Because fighting for your client is one thing. But continuing to represent clients after you know they committed felonies is quite another.
The legal rules say so, at W.Va. R. Prof. Cond. 1.6(b)(2) and 1.6(b)(3). In part, they say: An attorney should speak up to "prevent the client from committing a crime or fraud that is reasonably certain to result in substantial injury to the financial interests or property of another and in furtherance of which the client has used or is using the lawyer's services."
Shuman and Cranston were provided ample evidence of their clients' financial impropriety. In my recent motion to vacate the arbitration award that gave Wolfe everything, leaving the Estate insolvent and me homeless, I cited that evidence—2,095 pages of discovery. In December 2018, the defense received copies of those documents proving that fraud occurred.
Judge Susan B. Tucker ignored my motion, and then declared it moot. And Cranston and Shuman? Well, their actions speak for themselves.
Do you know how long I could live on $112,000?
Consider: in the last eleven months, I have lived on $8,700. Just scraping by. So if you took that $112,000 and divided it according to Butch Culp's will, his three grandchildren would receive $50,400. I would receive $61,600. (This is, of course, assuming all his creditors had been paid first.)
At that rate, I could live, albeit quite frugally and barring any emergencies, for the next seven years.
That gross injustice is why I continue to fight. Because right is right, and wrong is wrong. And that's why higher courts exist, to set straight lower courts that err. Judges who err. When, like happened here, the Monongalia County Circuit Court became a pawn in the hands of two extremely sloppy crooks.
As I also said in my motion, about why the Court should vacate the arbitration award:
"The award also does irreparable harm by rewarding Mr. Wolfe for financial exploitation through undue influence, when, after gaining Mr. Culp's trust, Mr. Wolfe preyed upon Mr. Culp and then took advantage of him. This should offend the Court."
The fact that it did not is reprehensible.
Shame on you, Judge Tucker.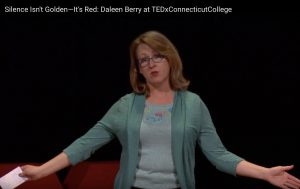 Dear Readers,
If you'd like to donate toward "Daleen v. Goliath" I could really use your help. Your donation will keep the lights on, and help me buy paper and ink, as I continue fighting in the Supreme Court.
For an in-depth look at the damaging effects of the silence that surrounds abuse, please watch my live TEDx talk, given April 13, 2013, at Connecticut College.
Thank you for choosing to read what I write. With the many and varied choices out there, I'm honored that you dropped by to visit me.
Have a great day and remember, it's whatever you want to make it!
~Daleen