People Cite Trump as Reports of Hate Crimes Against Muslims and Gays Increase After Election
First came the stealthy knock, carried out under cover of darkness.
Then the sound of footsteps, running away from the house.
And then, the horrible message: "TRUMP is our president now. Get out of our neighborhood now FAGGOTS!!"
I hate that word. I refuse to utter it and hate to even type it. Or share it on social media, which I felt forced to do today.
Corey Hurley found the note, printed in black ink on a piece of plain notebook paper. It was lying at his feet when he opened the door after being awakened at 3 a.m. Thursday morning.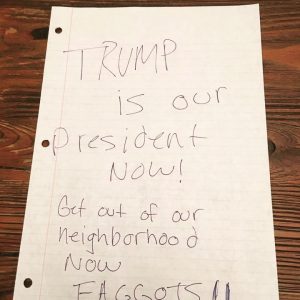 "I was terrified," Hurley said during a telephone interview. "I knew things were going to start getting a little crazy . . . but I didn't know it was going to (happen here)."
When I first read the note, posted on a stranger's Facebook page, I was carried back to 1992. To the day when I took time off work to visit the principal at Kingwood Elementary School, an hour away from Clarksburg – and begged administrators to stop the harassment and name calling. The same name as appeared on the paper found at Hurley's feet, paper that any child in America might use to complete a homework assignment. The same word directed at my son, Zach, then age eight.
According to the Southern Poverty Law Center, the last 24 hours have seen a significant increase in reports of hate speech and hate crimes around the country. Most have been directed at Muslims, but some in the gay community are being targeted, too.
Like happened to Hurley – and his partner, Kyle Chester.
And my son, who in didn't know even what sex was at age eight. Much less sexual orientation. All he knew was that the boys in his class didn't like him. And my visits to his school, and even later, a letter from my children's therapist, did little to change that.
"This one that you sent me (that Hurley and Chester received) looks like one of the more aggressive that I've seen on the anti-gay front," Heidi Beirich, director of the SPLC's Intelligence Project, said.
That unit monitors hate crime traffic. Beirich said the Harrison County case is one of "many, many instances we're hearing about across the country, where people are seemingly victims of what appear to be hate crimes and reference Trump."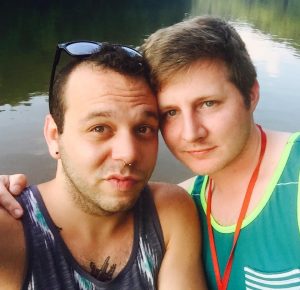 This is the first time since 2008, when another President took office. "We haven't seen an outbreak of what looks like hate incidents since Obama was elected," Beirich said, "when something similar happened."
But then, the SPLC saw a "rash of hate incidents (against) black people," because some people were angry about having a black President.
It's a different dynamic now, though. "In this case," Beirich said, "people who look like they support Trump or have sympathies with Trump are attacking minorities."
Numerous reports have been fielded, she said, of "Muslims having their headscarves pulled off and a ton of incidents in schools . . . there seems to be a rash of these incidents across the nation."
By the time Zach was in high school, the situation was no better. "I always got threatened in high school. I didn't tell you because you would have just made it worse."
One day during a break from theatre practice, Zach was walking outside near the football field. The players were tossing a ball around when "one of them threw the ball at my head, and very narrowly missed me." Zach threw the football "all the way across the football field so they had to go into the woods to get it."
Some of the players approached Zach as he walked back into the school. One boy wanted to fight. "So I just stood up to them and let him get into my face and I wouldn't back down." The football player turned and walked away.
Hurley, a lifelong Harrison County, West Virginia, resident, has never experienced this kind of violence. "It's always been more accepting," he said. "I've never had any problems with my sexuality from people before, so I was kind of shocked to see that it happened here in Clarksburg."
Frightened and shocked, Hurley woke up Chester, who took action. The Lexington, Kentucky, native made sure their home was secure – and then told Hurley they had to call the police.
They did. Chester spoke to Deputy Chief James Chamberlain, with the Clarksburg City Police Department. And patrol cars drove by "a couple of times" afterward, but that's all. When Chester called later this morning, an administrative worker told him the police couldn't do anything else. Not until, Chester said, they had "concrete evidence as to where it came from or who did it."
It's difficult to understand how police could gather concrete evidence when, 12 hours later, no officer had shown up to even begin the investigation. I tried to reach Chamberlain, but he did not return my call. However, not long after, Hurley and Chester did get a phone call. They were told to go to the Clarksburg police station and file an official report. A "very nice" officer collected the hateful note left at their door.
So now, the investigation into a potential hate crime has begun.
Beirich said it's hard not to link this kind of hatred with the President-elect. "Trump is referenced in some way. If you're going to use the word 'Trump,' you obviously think this is somehow connected to your support of the President-elect . . . Given Trump's xenophobic, racist, and so on comments during the campaign," she said, "it's not surprising that some people would feel emboldened to do these things."
While the SPLC doesn't yet have a tally for how much hate speech, or how many hate crimes have occurred since Trump became President-elect, Beirich said it's "several dozen."
They don't yet know how serious it is, but sadly, incidents like these are happening in America's schools. At all grade levels. "We're particularly concerned about stuff happening in schools, involving children," Beirich said. Muslim students, especially, are being targeted. Being told to "get out of the country."
The SPLC's Teaching Tolerance program has specific information available for teachers, to help them deal with the backlash.
"It's tragic to see this happening," Beirich said, while urging all victims to report such hatred to police, as well as the SPLC. And urging police to officially investigate.
"Any of those kids could have kicked my (butt)," Zach said. "I stood up to them – no, I didn't back down from them. There's a big difference."
I asked him to clarify.
Zach did. "Standing up to someone is when you realize that something bad is happening and you actually confront them about it. Not backing down is just standing your ground if someone confronts you."
I asked him if it worked.
"It definitely helped," Zach said. "If I had acted in a different manner, maybe more submissive, they would have tried to do more. But if you let them know you're not going to back down, they have a little more respect for you."
Respect. That's what this boils down to. It's all Hurley and Chester really want, too. So they're getting their friends involved, to help spread this message:
"We're human beings, too, just like everybody else," Chester said, "and we deserve the same rights and respect that anybody else does, in any neighborhood across the country."
Editor's Note: My website is being revamped, and more changes are in the works. So I hope you'll pardon the mess and be patient, as I iron out all the kinks.
* * *
My seventh book, Shatter the Silence, a love story and the long-awaited sequel to my memoir was released May 7. That's on the heels of Tales of the Vintage Berry Wine Gang, a collection of my newspaper columns from 1988-91, which came out in April.
For an in-depth look at the damaging effects of the silence that surrounds abuse, please watch my live TEDx talk, given April 13, 2013, at Connecticut College.
Have a great day and remember, it's whatever you want to make it!