MORGANTOWN, WV—I am packing boxes and filling plastic garbage bags. For the last two years, six months, and some odd days, I have wanted to downsize. Weed out the unessential. Keep only what matters. Because with a simple lifestyle comes serenity.
The Culp townhouse, even without Mr. Culp, still has far too many things in it. "Things and stuff," a good friend used to say, don't make for happiness.
People do. Making memories with them. Or helping them, while making memories together. I'm about to get back into the swing of things. I can feel it in my bones. For the same length of time I've longed to downsize, I've been unable to help others.
Instead, I'm the one who has needed help. Apparently, as of Wednesday, I still do. When I said in my last blog that the road was about to get rough (which I just changed to read "rocky") I'd already gotten the bad news. I needed to let it sink in before sharing it publicly.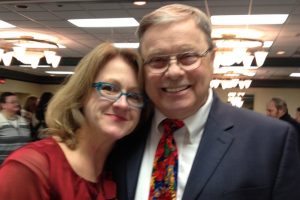 On Oct. 30, the West Virginia Supreme Court of Appeals denied my petition for a writ, and my motion for a stay. No reason was given. Just that they had considered both, and the defense's responses, and it was a no-go.
I believe there are two possibilities. By then I'd stated my intent to file an appeal. Too, on Oct. 29, Judge Susan B. Tucker granted my Oct. 2 motion for a stay in circuit court. So essentially, there was no reason to grant my petition for extraordinary relief.
Second, the defense's responses were pretty potent. As well as being wrong and irrelevant. I spoke about this in my last blog, too. So that could have played a role.
I'd like to think not. Indeed, I hope not. Because if those lies and twisted half-truths are taken into account, the chance that the appellate court will docket my appeal is slim to none. (You file a notice of appeal; if they decide to hear it, they docket it and send out a scheduling order with deadlines to meet. If they don't, well, it's dead in the water.)
I called Charleston today to check on its status. So far, nothing. No news is good news, right? There is a case number, though. It's 19-1016.
While I believe with every fiber of my being that right will win in the end, my idea of justice may not match those of the powers that be. I know I have done everything humanly possible to save Butch Culp's estate and our home. The home he foolishly tied up with his company in the first place, when he brought Nate Wolfe on as a partner, back in 2008. When he let Lea Walker, Wolfe's sister, bully him like he was dirt beneath her feet. When he let that brother-sister duo lock him out of his own storage company.
So while believing that the Culp Estate deserves to have its case heard in the WV Supreme Court of Appeals, I am also being practical. And pragmatic. I am downsizing, going through closets and cabinets. Finding clothes that I haven't worn in two years. Well, if I haven't needed them in that long, they need to go. I'm down to about 10 dress outfits and an equal amount of casual clothes. Because when you know you could end up as a nomad, less is best.
Letting go of other things…mementos, books, photos, a few cherished knickknacks…is more difficult. What will be equally challenging is walking away leaving things behind, in the event I am evicted next week. Because that is what will happen, if my appeal is denied.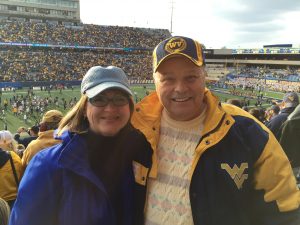 And while I don't want to lose my home, I can do it. I've lost more than that before.
What I do not want is to let those thieves get their hands on one more possession that Butch Culp paid for. (We all know my meager writer's earnings didn't pay for much, that's for sure.) So as soon as I finish this blog, I'm going to post all of the items I don't want to leave behind. On Facebook's Marketplace, which some friends say is quite popular.
There isn't much left. Most people don't know this, but a few close friends do. When I left for California in August 2016, Butch and I sold most of our furniture. Some of that money helped me search for my daughter, Jocelyn, while he used some of it to go to South Carolina and visit his daughter, Danielle. He later told me he had found a lot to park the camper on, that he'd bought for us to live in, in the event Wolfe stole our home. (Which he suspected then would happen.)
If it did, Butch wanted me to live with him in SC. I flat out refused. I did say that I could not live closer than four hours from his son-in-law, a felon whose violent tendencies remain. I believe I still have the email where I told him that. It doesn't matter, really. The point is, that was Butch's plan. And while it was not mine, I did suspect we might ultimately end up together in that camper. (Nov. 9, 2019, edit: The camper is gone. One of my SC readers went to look for it, but they said it wasn't there. And the estate still owes the bank $20,000 for it, give or take.)
As things turned out—and there was a lot to happen in the interim, both good and bad—we never saw each other again.
Tonight, as I was going through stored items in the basement, I found his purple sport coat. If nothing else, that man was one snappy dresser. He was far more than that, of course. But he also had his flaws. As do we all.
Our fifteen-year journey has turned into 17 years, but it's nearing its end. If he was still alive, here today, I would want him to know I did my level best to save the company where so many of us—friends of the Culp family—used to drop by, just to say hello and see him and Shirley, the first Mrs. Culp.
The thing is … when I used to tell Butch that, which I did all the time, he would laugh and smile that gorgeous smile and say, "What's the thing? Tell me what the thing is."
The thing is, Butch, I'm so sorry. In the event I cannot save your legacy, I am truly sorry.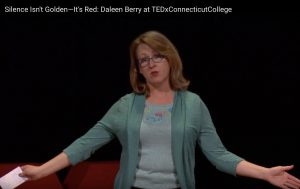 Dear Readers,
If you'd like to donate toward "Daleen v. Goliath" I could really use your help. Your donation will keep the lights on, and help me buy paper and ink, as I continue fighting in the Supreme Court.
For an in-depth look at the damaging effects of the silence that surrounds abuse, please watch my live TEDx talk, given April 13, 2013, at Connecticut College.
Thank you for choosing to read what I write. With the many and varied choices out there, I'm honored that you dropped by to visit me.
Have a great day and remember, it's whatever you want to make it!
~Daleen