In a Riff on 'Mr. Smith Goes to Washington' … Ms. Berry Goes to Charleston
MORGANTOWN, WV—Last Friday I drove to Charleston again. To file another motion with the WV Supreme Court. As a back-up measure, after an attorney told me the petition I filed on October 8 may not stop Nate Wolfe from further harming my late husband's company.
On October 2, Monongalia County Circuit Judge Susan B. Tucker signed an order that would have turned over that company to Wolfe, effective October 9. Then the appellate court ordered Wolfe to respond to my "Petition for Writ of Prohibition." The defense has until November 8 to do so. The appellate court will decide what happens after that.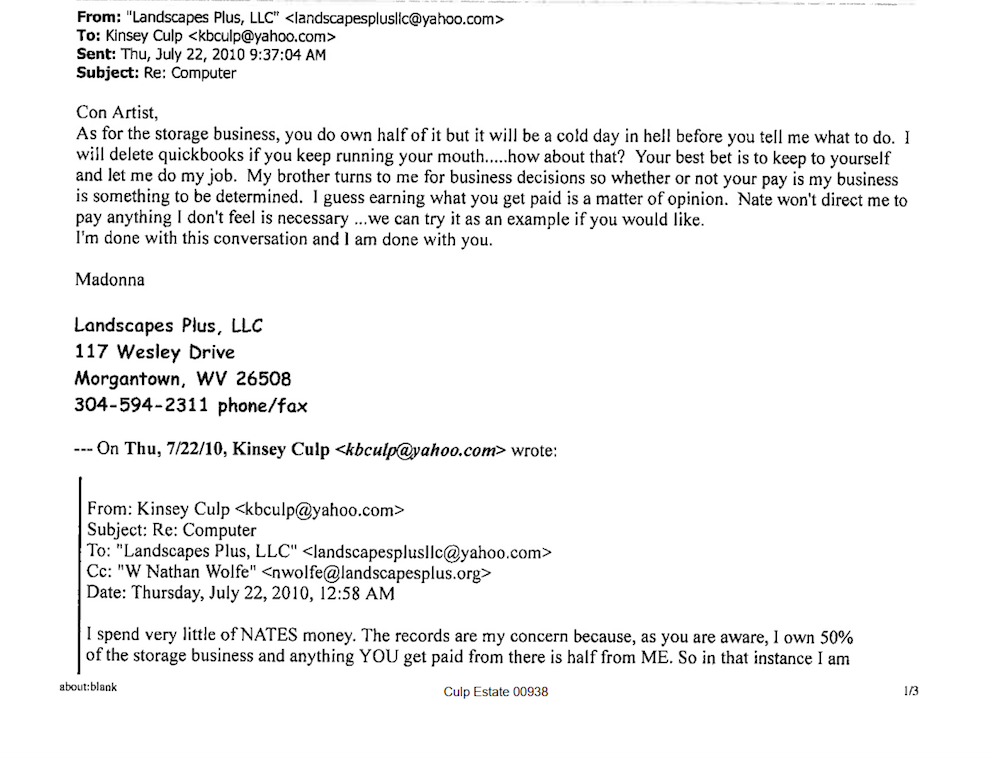 Meanwhile, that same court is reviewing my "Motion for Stay of Judgment Pending Ruling on Petitioner's Writ of Prohibition." I know this because yesterday I got a phone call from the clerk's office. It was a procedural question only, but the call itself nearly gave me a heart attack.
As a self-represented (pro se) litigant, not only do I not know the law, sometimes I make ridiculous mistakes. It can be due to time constraints, or having no one to help me. Other times it's due to problems with jammed copiers. Sometimes it's simply because I'm stressed or sick and cannot think clearly.
Like happened Friday. I got home and checked my own copy of the tome-like motion; it contained an error. Which I was going to correct, until the clerk's office informed me it was fine as is. Whew!
I'm sure that behind the scenes, defense attorneys Paul Cranston and Robert Shuman regularly have a great chuckle at my expense.
That's okay, boys, because I'm the one with the forensic evidence. The same forensic evidence that shows what your clients, Nate Wolfe and Lea Walker, have done. How they have stolen from our company since 2008.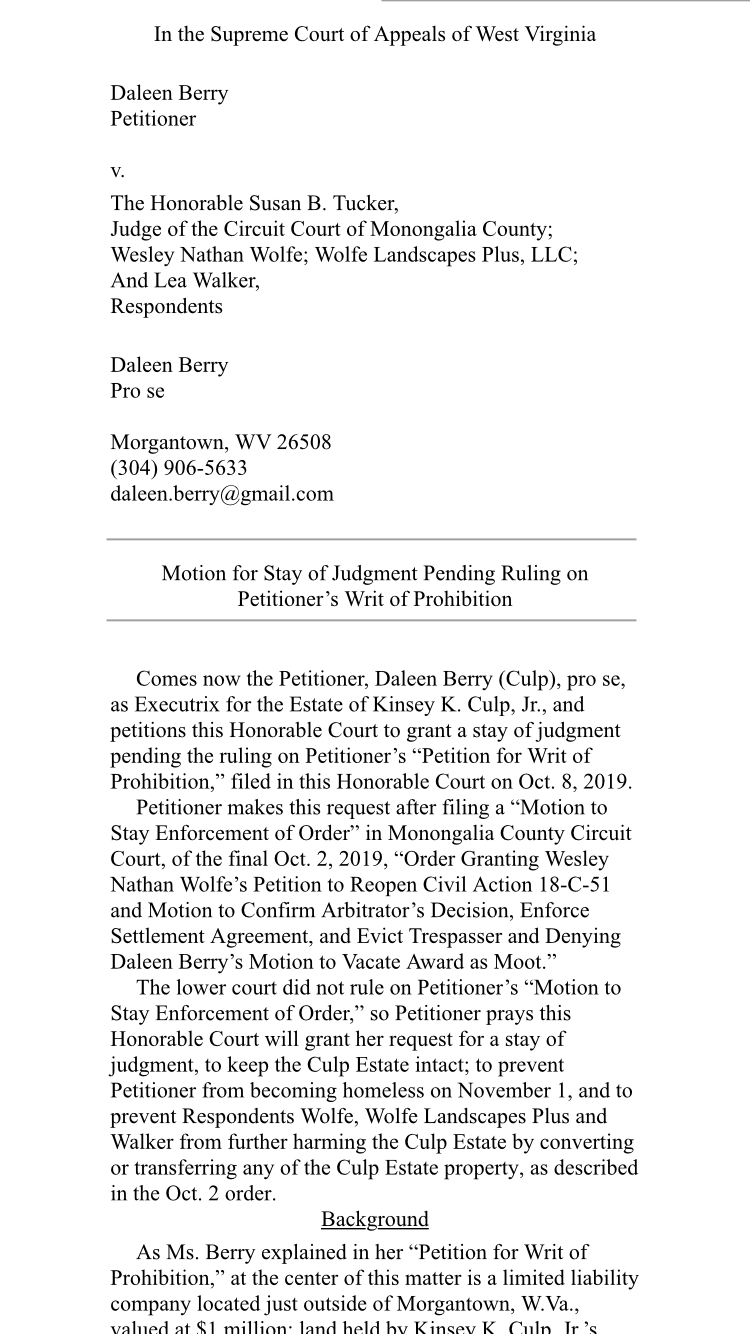 That company, Richard Self-Storage, LLC, has 212 storage units. Many of the customers in those units pay no rent or reduced rent. Several of these people are friends or family of Wolfe and his sister, Lea Walker. I know this because even though Wolfe and Walker denied my late husband, Butch Culp, the right to see the records for the company he and his first wife, Shirley, built in the 1980s, I managed to get my hands on a copy of the July 2017 rent roll.
There, I learned that Ron Kight, who owns Infinite Technology Solutions, has been paying half of what he should per month, for several storage units he rents from our company. For years, Mr. Kight has been the recipient of Wolfe and Walker's fraud. That makes him an accomplice. At first, he may have been an unknowing accomplice—until I put him on notice earlier this year. His response was priceless: "That's between you and them."
Afraid not, Mr. Kight. An accomplice to a criminal act, by definition, makes you a criminal. And I've seen the discounted invoices you, in turn, have given to Wolfe's Landscapes Plus, for computer equipment. Because the defense was kind enough to submit those fraudulent invoices to the court, back in 2018. Wasn't that nice of them?
Your invoices, in fact, are one of the pieces of evidence that verified my years-long suspicion that Wolfe and Walker were funneling money from our storage company to Wolfe's landscaping company.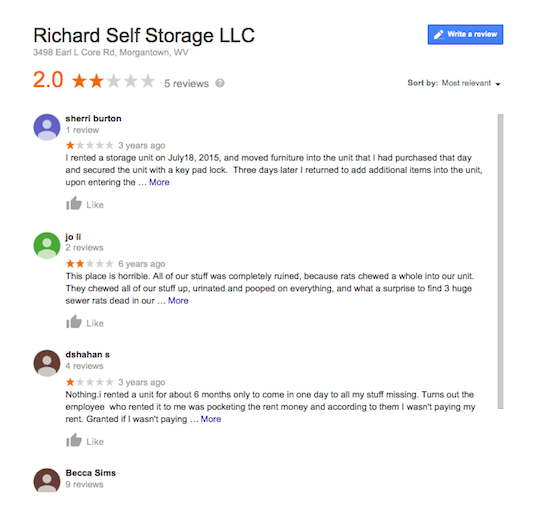 Mr. Kight isn't alone. Other businessmen in Morgantown are benefitting from the fraud in similar fashion: reduced or free storage in return for discounted purchases by WLP. Meanwhile, our storage company continues to be run into the ground. That's what the Google reviews say. Not one of which ever existed when Butch ran his company by himself, prior to 2008.
When Judge Tucker forced me into arbitration, unrepresented, I submitted those Google reviews and Mr. Kight's computer invoices. They were among more than 1,300 pieces of evidence I submitted, which showed exactly what the forensic report has since verified. Which shows that every court ruling Judge Tucker has made in this case, in favor of the defense, is based on fraud.
Among that evidence were hundreds (if not thousands) of emails and text messages between Butch, and Wolfe and Walker. In fact, it was this July 22, 2010, email from Walker (who calls herself "Madonna") that told me just what Butch had been dealing with behind the scenes. I've since interviewed other people who worked for WLP; they say Walker's bullying tactics are legendary. Designed to bring grown men to their knees.
I submit this particular exhibit, known as "Culp Estate 00938," every time I file another motion. Just to remind the court how egregious this all is. How utterly unjust it is that a brother and sister can steal a dead man's entire estate, thanks to a judge who plays favorites.
This exhibit is from 2,905 pages of such discovery. The first estate attorney submitted a CD containing those pages to the defense in December 2018. So yes, they know what their clients have done. Which in itself violates several professional rules of conduct. Rules that attorneys are required, by law, to follow.
I've cited those in my motions, too. Of course, Judge Tucker had no problem with those violations.
They are a problem for me, however, especially when that same judge tells me I'll be evicted November 1.
Not if I have anything to say about it.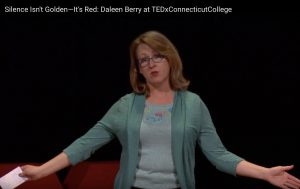 Dear Readers,
If you'd like to donate toward "Daleen v. Goliath" I could really use your help. Your donation will keep the lights on, and help me buy paper and ink, as I continue fighting in the Supreme Court.
For an in-depth look at the damaging effects of the silence that surrounds abuse, please watch my live TEDx talk, given April 13, 2013, at Connecticut College.
Thank you for choosing to read what I write. With the many and varied choices out there, I'm honored that you dropped by to visit me.
Have a great day and remember, it's whatever you want to make it!
~Daleen