I'm resurrecting the GoFundMe I began to save my late husband's estate, including our home. Since then, due to several attorney errors, and because I have no more money to pay for legal help, I've been forced to be pro se. That means I'm representing myself.
However, in this case, I'm representing the Estate of Kinsey K. Culp, Jr. I never wanted to be pro se, but when all you have has been stolen, there's no other choice.
My late husband, Butch, owned Culp Paving. So he laid a lot of blacktop here in Morgantown, including at Mountaineer Field. Butch and his first wife, Shirley, built Kinsey Development in the 1980s. It was the first commercial self-storage facility in the area.
The Culps were family friends from the 1970s, and Shirley died in 2000 of breast cancer. Butch and Shirley's three grandchildren are his heirs, but they are being denied what is rightfully theirs.
As Butch's executrix, I have a legal, fiduciary duty to his estate, which includes ensuring those children get what they deserve. And saving the home Butch is contractually entitled to. Plus, I must also pay his creditors.
I can't do that though, because the defense has interfered with my duties, by threatening and intimidating me. Fortunately, a new forensic accounting report says the estate is owed more than $1 million. This includes my home—which the defense intends to evict me from Tuesday.
Due to the stress of the litigation and the ongoing threats of eviction that began Jan. 15, 2018, my doctor placed me on medical leave Nov. 26, 2018. She had to, because my asthma and Multiple Chemical Sensitivity flared up so much that I'm now on Trelegy, a $300 a month COPD drug. I need that just to breathe.
I also now receive Medicaid and food stamps (known as SNAP), which I haven't gotten since I was a crime reporter back in 1990, supporting four young children as a single parent. But I began earning my own money when I was eight, delivering newspapers, so as a taxpayer, I've earned those benefits. Still, they don't pay for utilities or paper and ink cartridges, which are essential for me to keep fighting.
And fight I will—all the way to the West Virginia Supreme Court, if necessary. If any of my words have touched you, in any of my books or at my blog, please donate and help me do that. You can do so here, or at my GoFundMe.
Finally, I could really use some moral support in Monongalia County Circuit Court at 11:30 a.m. Tuesday, in Culp v. Wolfe (civil action 18-C-51). The hearing will be held in the Justice Center, located the old post office building at the bottom of High Street.
Thank you, for anything at all you can do to help me bring down Goliath.
* * *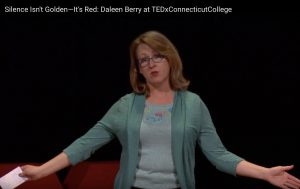 Dear Readers,
Thank you for choosing to read what I write. With the many and varied choices out there, I'm honored that you dropped by to visit me.
For an in-depth look at the damaging effects of the silence that surrounds abuse, please watch my live TEDx talk, given April 13, 2013, at Connecticut College.
Have a great day and remember, it's whatever you want to make it!
~Daleen