Daleen v. Goliath: Will the Third Time Really be the Charm?
MORGANTOWN, WV—In the last three weeks, I've driven to the West Virginia State Capitol three times. Each time, I delivered a legal motion. Today was trip number three. Today's motion was for expedited relief, and I asked the West Virginia Supreme Court to stop the defense from taking my home Friday at noon. As a backup plan. If the Court grants my request, I won't be homeless.
Yes, I would have someone's spare bedroom to sleep in. I've received some offers. But would my breathing be compromised? That remains to be seen, and I have serious doubts about living anywhere but here, in my own home. Still, with no money for rent, I have few options.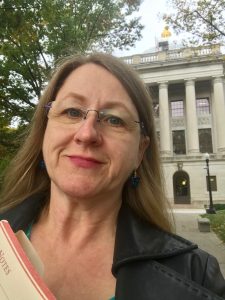 Back to the trips to Charleston, though: each one required about $30 for fuel. Recently, I paid almost $50 in postage for one such mailing. So driving doesn't just save time—it saves money. That's crucial, given that I've spent more than $500 in the last month in estate expenses alone.
What, you might wonder, is the difference between an expedited motion and a normal one? Eight days. That's basically it. With regular motions, the opposing party has ten days to file a response.
With expedited motions, they only have two—because expedited motions are urgent. As mine was today. And I filed it because last Friday when I called the Court, the first two motions were still pending. No decision yet. As I expected.
I arrived at the statehouse at 9:30 a.m. But when I went to the clerk's office, I asked if contemporaneous service meant simultaneous. I asked this question because a staff attorney said that many expedited motions are rejected because people fail to serve the other party contemporaneously. So I knew that was crucial, and I wanted to do it right. I simply could not risk making a mistake. But I wasn't sure if contemporaneous meant I could deliver the six copies to the Court and then drive back to Morgantown to deliver the other copies—or if I had to email or fax those copies at the same time I gave the Court its copies.
Turns out, to do it properly, you are supposed to serve everyone simultaneously. Or serve the other parties first. And since I knew I couldn't be in two places at once, I left copies and instructions with a good friend. Just in case. (And to save fax costs, which are hefty.)
Becky was kind enough to leave work to deliver those copies for me. While she did that, I went outside and admired the Capitol's famous gold dome. I also shot some selfies and watched the squirrels race up and down the trees. Which reminded me of 1994, when my young son and I did the same thing with a friend.
Becky texted me with each drop: first at one attorney's office, then at the Justice Center, then at the second attorney's office. As she finished delivering the last one in Morgantown, I delivered my motion to the WV Supreme Court, 156 miles away. It was 10:36 a.m.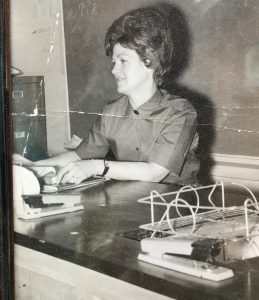 Then I went to visit my Uncle Les, who is still grieving the loss of his beloved Aunt Helen. Tomorrow is the first year anniversary of her death, and I knew he would miss her more than usual. I know I do.
At 3:21 p.m., as I exited the off-ramp in Bridgeport, I received an email from the Court. The order was attached. It gives opposing counsel until noon Wednesday to reply. I found that very reassuring.
Here's what's interesting. The WV Supreme Court can rule on my expedited motion for relief before the other side responds. A staff attorney told me this is possible. So, while the Court can do this, that does not mean it will.
I think it's important for people to know what avenues are available, in the event they cannot afford legal help, either. Being pro se is not easy, and you need to know as much as you can, to do it right.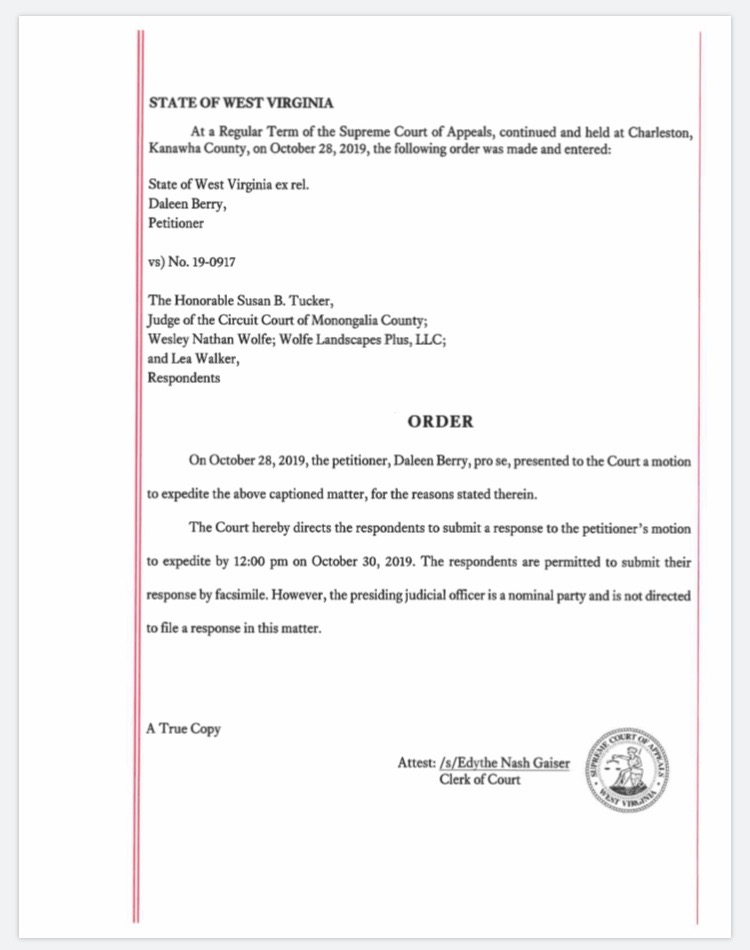 I'm sure I don't always do that, due to time constraints and the like. But mostly, because I don't know the rules. I'm not a lawyer. I can read them, and I do try to, but at times I have missed some details.
But I consider the motion I filed today one of the strongest arguments yet for keeping me in my home—and for keeping Nate Wolfe's hands off my late husband's company. Any more than they already have been, that is.
Because, judging from his Facebook posts, and those of his sister, Lea Walker, their hands have been on quite a lot of that company money. Nor are they hurting financially. In the last few months, they've been to Las Vegas (and eaten at Spago by Wolfgang Puck, located in the ritzy Bellagio), to Greece, to New Mexico, and to the beach.
So they don't have to worry about couch surfing. Unlike me.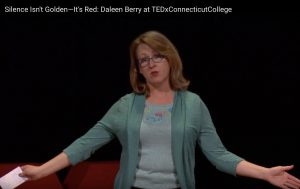 Dear Readers,
If you'd like to donate toward "Daleen v. Goliath" I could really use your help. Your donation will keep the lights on, and help me buy paper and ink, as I continue fighting in the Supreme Court.
For an in-depth look at the damaging effects of the silence that surrounds abuse, please watch my live TEDx talk, given April 13, 2013, at Connecticut College.
Thank you for choosing to read what I write. With the many and varied choices out there, I'm honored that you dropped by to visit me.
Have a great day and remember, it's whatever you want to make it!
~Daleen