Watch Out For the Potholes
MORGANTOWN, WV—Every time I walk into the state Capitol, I'm in awe. After going through security, I ride the elevator to the third floor. The ceilings are high and ornate, the copper, wood, and marble décor regal. It never fails to amaze me: I'm in the domain of the West Virginia Supreme Court.
This is the highest court in the land, here in Almost Heaven. This is where justice happens. Here or not at all.
Yesterday was my fourth trip in a month. I delivered my notice of appeal, which could become my failsafe. To stop all that's gone wrong in a lawsuit that has been fraught with errors from day one.
Of course, it's not easy to combat deceit. And that is exactly what I'm fighting. What the late Mr. Culp fought. Of course, he only had to fight a crooked business partner and his hateful sister. I'm fighting that brother-sister duo and their attorneys.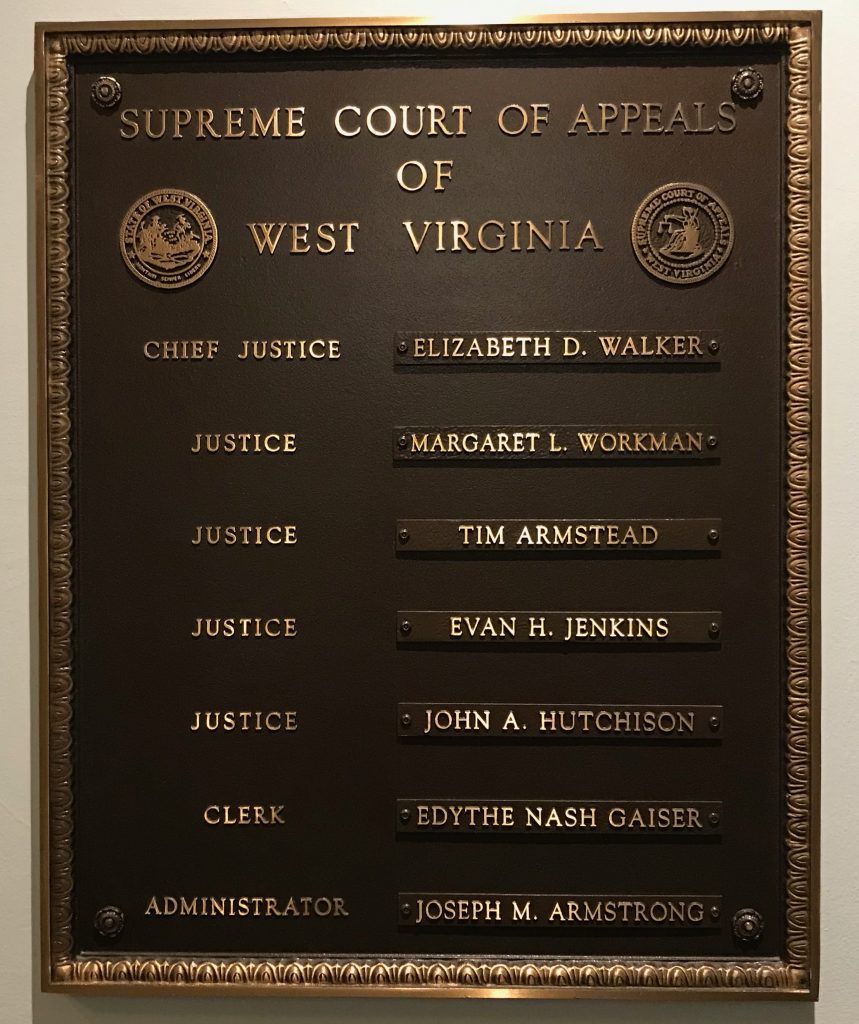 Unfortunately, smokescreens and character assassination are their weapons of choice. I've seen that since day one, but the circuit court didn't see through it. However, just as this case is now in a higher court, with higher stakes, so the weapons have become deadlier.
I still believe in the concept of truth. In facts. In transparency. Of not submitting protected documents to the Supreme Court when you, as attorneys, know very well they are just that.
But I no longer believe that the men and women who do legal battle are gentle men. Or gentle women. That they fight fair and square. Because not all of them do. Some would say most don't. As one such person said recently, "they teach attorneys to argue, and anymore, they think lying is the same thing as arguing."
Of course, when you have no evidence to support your stance, I guess lies and omissions and half-truths are all you have left.
Here's the thing: I believe these five Justices on the WV Appellate Court will see through the defense's distractions. That they will refuse to let the strong continue exploiting the weak. This is what I choose to believe, every time I pass their pictures that hang in the corridor.
If I did not, I would not have made four trips to Charleston. Like yesterday's mad dash there, so I could arrive before closing time. I did, too, thanks to a good friend who came to my aid at the last minute. Becky, what would I do without you?
So, while Becky acted as my courier in Morgantown, I put the pedal to the metal and drove to Charleston. I parked at 4:35 p.m. I delivered one original and five copies to the clerk, went back down the elevator, and asked a security officer where the nearest post office was. Then I left the Capitol. It was 4:50 p.m. I turned around on California Street, took a right on MacCorkle Avenue, and followed the directions on my maps app. I was within one block of the post office when I accidentally got in the wrong lane. A right-turn-only lane, it had barriers in place to keep drivers there. I knew a right turn would take me across the Kanawha River and into the North Hills. If I did that, the post office would be closed by the time I made it back.
So I did the only thing I could: I put my car in reverse and backed up. The car that came around the corner as I did stopped, holding up traffic in the process. I quickly cut across two lanes, blocking more traffic as everyone came to a stop and let me whizz by.
Get this: no one blew their horn at me. Not one honk. Not even one. Now that's southern hospitality!
When I parked at the post office, I ran in, addressed four envelopes, and mailed them. The postal service employee who helped me was so friendly that I offered to give him a good review. Josh, wherever you are, thank you. You were one of the bright spots in my very long day.
As so many of you are, or have been. Truly, what would I do without you, my loyal readers? Just knowing that you're thinking about me, checking in on me, and rooting for me…well, you're worth more than seven sons. (Isn't that how the expression goes?)
We are, I do believe, down to the last leg in this journey. So buckle up, because it's about to get rough rocky. And you all know how bad the potholes are here in West Virginia.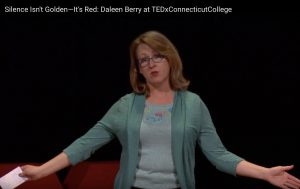 Dear Readers,
If you'd like to donate toward "Daleen v. Goliath" I could really use your help. Your donation will keep the lights on, and help me buy paper and ink, as I continue fighting in the Supreme Court.
For an in-depth look at the damaging effects of the silence that surrounds abuse, please watch my live TEDx talk, given April 13, 2013, at Connecticut College.
Thank you for choosing to read what I write. With the many and varied choices out there, I'm honored that you dropped by to visit me.
Have a great day and remember, it's whatever you want to make it!
~Daleen