So that's what I'm using.
That's what Lisa would have done, if she was still alive. My sister would have turned 53 today, but for her opioid addiction. Lisa didn't, as a good friend of hers in Tennessee reminded me recently, take flack from anyone. She stood up for herself, always.
Me, not so much. I do, but I'm more quiet about it. No more. Being quiet has done nothing but allowed a bunch of bullies to help two thieves steal my late husband's $1.3 million estate. This is, in large part, why I haven't blogged in one year.
In August, an independent forensic accountant found that to be its known value. That's how much the crooks have stolen. What the legal system has helped them steal.
Of course, that's only what we know about. The number is likely much higher. I wouldn't know, though, because two attorneys from separate law firms both failed to subpoena the financial records I repeatedly begged them to get—so we would know exactly what's been stolen.
I do know that the crooks forged my late husband's name to an estimated $600,000 in checks. Including a few after he died. (I thought that dead men can't sign checks—but the court apparently thinks otherwise.)
I don't have any money. So therefore, in this town, I have no power. But I do have my voice—and I intend to use it. Since I was also told that the media isn't interested, it's up to me to tell people what's going on.
Now the defense attorneys are trying to evict me from my own home, in spite of the fact that the forensic report proves we paid for it in full long before my husband died in April 2017. The next court date is Sept. 24. I intend to go–and fight, because, as a good friend said this week, "Fighting for your home is as West Virginian as it gets. People should be ashamed."
I have been on medical leave since November. Between July and August, I've been to the emergency department four times, and admitted twice. For chest pains. Which anyone facing this Goliath would have experienced by now.
Due to that, I'm down to my last few dollars. Literally. I have less than $300 in the bank. Between being sick and being forced to fight this battle without legal representation—since I cannot afford any—I've been unable to write enough to earn a paycheck. Or market my seven published books, so that I would have enough monthly royalties from Amazon to live on. (No, Legal Aid cannot help. I've been there three times.)
Several friends encouraged me to do another Go Fund Me, like the one I did in March 2018. But last year I stopped asking the public for help due to some behind-the-scenes bullying. By one man who spent 10 years in the Pennsylvania State Penitentiary. He served time for rape, and for trying to hire an undercover cop to murder his victim.
By another man who personally bragged to me that he repeatedly banged his wife's head against the wall so hard that he busted the drywall. A man whom I then told should be ashamed of himself.
I don't know why I let these two men silence me, but my therapist is helping me work on that issue. I'm sure it comes from having been a survivor of both rape and domestic violence. I should never have gone quiet. But there's been a lot of bullying lately, some forms of it worse than others.
Last week, I was told that in going public, many Morgantown residents will support me. So apparently I'm not alone, and other people here have experienced some of the same injustices I am. If so, I encourage you to speak out, too. Because eventually, someone has to listen.
Meanwhile, I need a forensic handwriting expert. Because if the same signature (not his, that's for sure) is on checks written from our company account before and after he died, that looks like forgery to me. But what do I know? I've only been a crime reporter since 1988. Can anyone out there find me such an expert?
And if you'd like to help me keep fighting this battle, by keeping the lights and water on here at home, or maybe even finding a good attorney, please click on my new donate button. Bob Lucore, computer whiz extraordinaire, began helping behind the scenes a few months ago. He has single-handedly redesigned my website, and added a donate button for my work. I love it, and hope to begin blogging regularly. I miss writing terribly.
Like the good and faithful friends who have gotten me this far, Bob has given to me when I had nothing to give in return. That is one of the blessings I've gained during this journey: the knowledge that good people really do exist, and are there when you need them. Thank you, Bob, and everyone else whose support has kept me from giving up.
My voice was silent, but no more. After all, it's all I have.
Thank you, Lisa, for reminding me of that.
* * *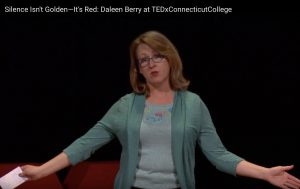 Dear Readers,
Thank you for choosing to read what I write. With the many and varied choices out there, I'm honored that you dropped by to visit me.
For an in-depth look at the damaging effects of the silence that surrounds abuse, please watch my live TEDx talk, given April 13, 2013, at Connecticut College.
Have a great day and remember, it's whatever you want to make it!
~Daleen