I crossed the California state line in San Bernardino County at 3:18 p.m. October 2, not far from where the Mojave Desert meets the San Andreas Fault. "Not far" being a relative term, for a woman who had already logged more than 5,000 miles on her Toyota Prius – much of it on Route 66.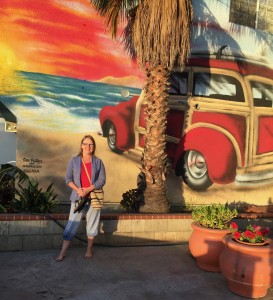 Even in spite of earthquake warnings, it felt good to be home. For anyone who doesn't know, I'm a California girl by birth, born in a city made famous by the song my parents sang to me as a toddler. Those same parents laughed at the idea that yes, the Golden State might really be hit by an earthquake that would knock it into the ocean one day. Turns out, as I arrived in California, the fear of another earthquake loomed large. That's okay. I survived one earthquake in 1999. I was driving on I-580, and never knew it happened until I arrived at work and heard my coworkers discussing it.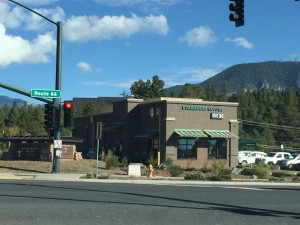 Driving through the desert, my car's thermometer told the tale: it was a balmy 99-degrees outside. I was surprised, though, at how cool it felt. No doubt the dry climate was responsible, for 99-degrees in Florida (or West Virginia) would have left me drenched in sweat.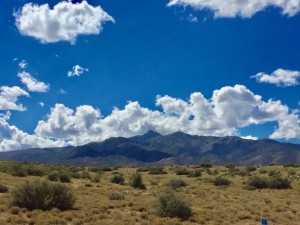 Speaking of sweating it out, during part of my trip I listened to the audio version of The Girl on the Train – can you say red herring three times really fast? It was one of the most twisted tales I've ever heard (or read). Nothing was as it seemed.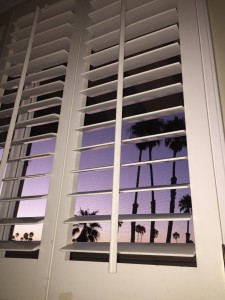 I haven't visited California in a while, but since two of my four children are here, I've been trying to return for the last three years. So I'm long overdue. But I've been a little busy, writing several books during that time, so no wonder it's taken me this long. I drove through miles and miles of desert, thinking about the direction my life has taken, and looking forward to seeing my son and daughter again, and several hours later, my car's odometer hit 130,000 miles. Not long after I holed up for the night in a little motel in Ventura, California, one block from the beach.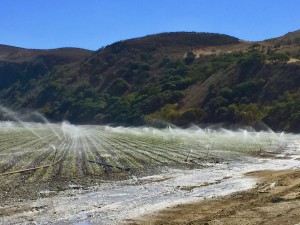 The next morning, I woke up in time to see the sunrise, roll up the cuffs of my pants, and enjoy a barefoot walk on the beach, where I collected some beach stones and watched seagulls at play. When I returned, a woman named Cheryl saw me snapping photos and offered to take a picture of me standing in front of the motel's colorful mural. In return, I gave her a copy of one of my books. We parted friends and wished each other well.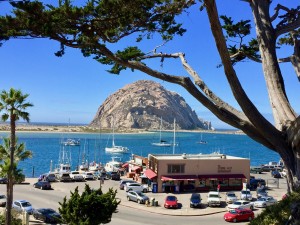 After I got on the road, I drove through vineyards and various other fields full of crops, passing migrant farm workers along the way, before hitting Highway 1 and winding my way up California's rocky coast. I stopped at Pismo Bay, where I watched pelicans swoop and dive, as a pod of whales swam in the open waters. Further north, I stopped at Morro Bay, where I watched sea lions sunbathing. As my little car climbed higher and higher along the coastline, distant memories of Monterey and Carmel and Big Sur returned, and in my mind's eye I saw my children, running into the surf, hiking through the redwoods and sequoias, and posing for graduation photos I snapped along the beach.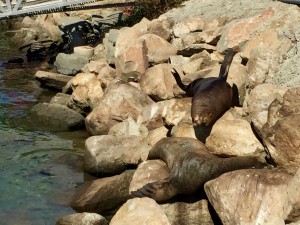 This coastal drive is, hands down, the most spectacular in the country. Most of it is wild and wonderful, unspoiled by very few commercial businesses. (And nary a restroom along one particular two-hour stretch, which left me rushing to the ladies room when I finally happened upon one.)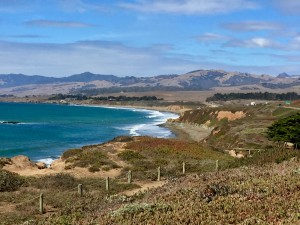 By 4:30 p.m. I was crossing the Bixby Bridge, a suspension structure not unlike the New River Gorge Bridge I left behind in West Virginia. I stopped along the road, snapping too many photos, and even climbed down a narrow, rocky path that offered a closer view of the magnificent architectural feat. The fog hadn't yet moved in, so the views were breathtaking.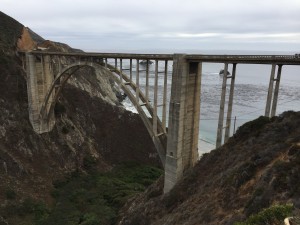 After spending an hour there, I tried to make it to John Steinbeck's Cannery Row, which I last visited in 1998, but I was too late. Plus, I had too many more miles to travel before reaching my destination. That didn't happen until 10:30 p.m. – after the only near miss of my entire trip. I was traveling about 70 miles per hour on I-680 north when a car parked on the berm pulled directly in front of me. The driver had not taken the time to get up to speed, so he was probably cruising at 30 m.p.h. Regardless, his speed was far too slow to avoid a collision, so I instinctively jerked the wheel and cut across one lane, grateful when the driver on my left did the same. "Welcome to California," I heard a long-ago voice say inside my head, "home of the fruits and nuts."
Other than that, I wasn't pulled over once, nor did I run out of gas (despite a close call), and the only downer during my time on the road occurred when I realized it was probably the first and last time I would experience just such a journey. For the most part, I found friendly folks all across the country, and came away with so many new stories I'll be hard pressed to find time to tell them all.
All in all, from North-Central West Virginia to the southern most tip of Florida and back up, and clear across the wild, wild West, I drove 5,799 miles, going from the Atlantic to the Pacific Ocean in 34 days. The journey of a lifetime, it's one everyone should be so fortunate to experience.
And I loved every single minute of it!
* * *
My seventh book, Shatter the Silence, a love story and the long-awaited sequel to my first memoir was released May 7. That's on the heels of Tales of the Vintage Berry Wine Gang, a collection of my newspaper columns from 1988-91, which came out in April. Prior to those two books, Guilt by Matrimony was released last November. It's about the murder of Aspen socialite Nancy Pfister.
My memoir, Sister of Silence, is about surviving domestic violence and how journalism helped free me; Cheatin' Ain't Easy, now in ebook format, is about the life of Preston County native, Eloise Morgan Milne; The Savage Murder of Skylar Neese (a New York Times bestseller) and Pretty Little Killers , released July 8, 2014, and featured in the August 18, 2014, issue of People Magazine.
You can find these books either online or in print at a bookstore near you, at Amazon, on iTunes and Barnes and Noble.
For an in-depth look at the damaging effects of the silence that surrounds abuse, please watch my live TEDx talk, given April 13, 2013, at Connecticut College.